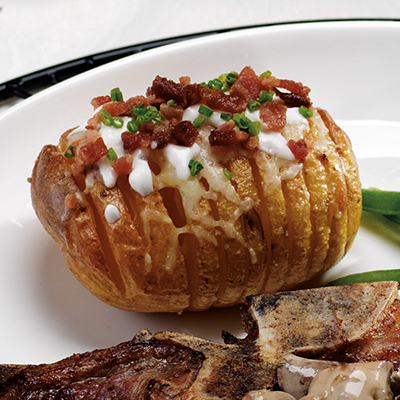 Ingredients
Serves 2
2 small Yukon Gold potatoes, washed and scrubbed
¼ cup (60 ml) butter, melted, divided
¼ cup (60 ml) cheddar, grated
3 strips thick-cut bacon, cooked, patted dry and coarsely chopped
1 tbsp (15 ml) chives, finely chopped, for garnish
1 tbsp (15 ml) sour cream, for garnish
Instructions
Preheat oven to 375 F (180 C).
Cut slits into potatoes ¼-in (0.5 cm) apart, careful not to cut all the way through. Place potatoes on a baking sheet and brush with half the melted butter, making sure to get butter between slices. Season with salt and pepper. Bake in oven for 30 minutes. Remove from oven and slightly pull apart slices if they are sticking together. Brush with remaining butter. Bake for another 30 minutes, until potatoes are golden brown and cooked through.
Sprinkle cheese and bacon over potatoes then return to oven for another 5 minutes, until cheese has melted. Plate potatoes and garnish with sour cream and chives.
Drink Pairings