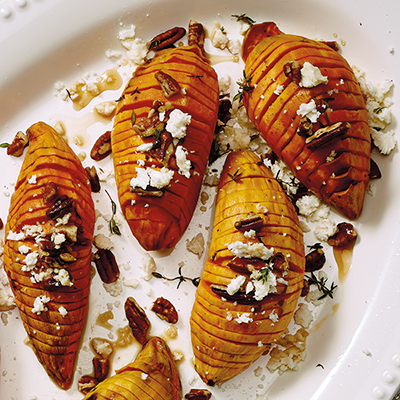 HASSELBACK SWEET POTATOES
Ingredients
Serves 8
2 tbsp (30 ml) maple syrup
¼ cup (60 ml) chopped pecans
salt and pepper, to taste
Instructions
Preheat oven to 375 F (190 C).
Peel and rinse sweet potatoes. Cut ¼-in (0.5 cm) parallel slices along potato, leaving bottom intact, so potato stays connected. Bake on a parchment-lined baking sheet for 30 minutes or until fork-tender (time may vary based on size of potato).
In a medium skillet, melt butter. Add maple syrup and pecans. Cook for 5 minutes then remove from heat. Top each potato with crumbled feta and spoon maple butter over top. Serve warm.
Drink Pairings