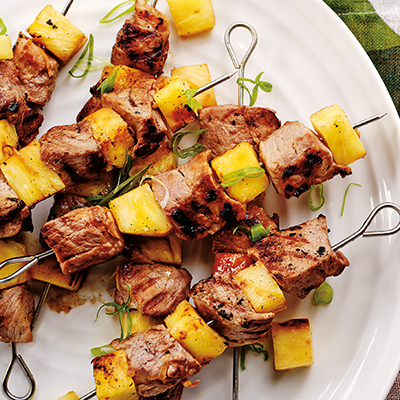 Hawaiian Teriyaki Pork Skewers
Ingredients
Serves 4
1 lb (500 g) pork shoulder, cut into 2-in (5 cm) chunks
1 tbsp (15 ml) minced ginger
2 tbsp (30 ml) vegetable oil
¼ cup (60 ml) pineapple juice
1 pineapple, peeled, cored and cut into 2-in (5 cm) chunks
1 pinch chopped parsley, for garnish (optional)
Instructions
In a large bowl, mix together pork, ginger, ketchup, soy sauce, oils and pepper. Marinate in refrigerator for at least 2 hours but preferably overnight.
Preheat grill to medium.
Remove pork from marinade and set aside. Transfer marinade to a small pot, add pineapple juice and bring to a boil over medium-high heat. Turn heat down to low and simmer for 5 minutes.
Skewer pork and pineapple, alternating pieces of each. Grill over medium heat, brushing with cooked marinade throughout. Grill until pork is cooked through and reaches an internal temperature of 150 F (66 C).
Transfer skewers to a serving platter and sprinkle with parsley, if using. Serve with lettuce leaves to make wraps.
Drink Pairings