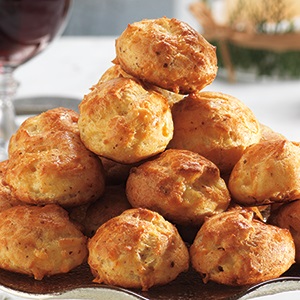 Ingredients
Serves 40 gougères
⅔ cup (150 ml) all-purpose flour
⅓ cup (75 ml) hazelnut meal
½ cup (125 ml) unsalted butter
½ tsp (2 ml) fine sea salt
½ cup (125 ml) coarsely grated Gruyère cheese
¼ tsp (1 ml) ground black pepper
Instructions
Preheat oven to 400 F (200 C). Line 2 baking sheets with parchment paper.
In a bowl whisk together flour and hazelnut meal. Set aside.
In a saucepan combine water, milk, butter and salt and place over medium heat. Bring to a boil, stirring occasionally, and immediately take pan off heat. Add flour blend all at once and stir with a wooden spoon until well combined. Return pan to heat and cook, stirring dough continuously for 1 minute, to eliminate excess moisture. Remove pan from heat and let cool slightly.
Add 1 egg to dough and mix with a wooden spoon until well incorporated. Add 3 more eggs, mixing well after each addition, until dough is smooth, shiny and falls from the spoon in a thick ribbon. Stir in cheese and pepper.
Beat remaining egg with 1 tbsp (15 ml) water to make an egg wash.
Pipe or spoon gougère dough onto prepared baking sheets. Lightly brush each with egg wash and bake, 1 tray at a time, until puffed, golden brown and crisp on outside, about 20 to 25 minutes. Transfer to a wire rack to cool. If not planning on serving right away, place gougères in a single layer on a baking tray and freeze until firm. Transfer to airtight containers and freeze up to 3 weeks.
When ready to serve, warm gougères in a 325 F (170 C) preheated oven until warmed through, about 8 to 10 minutes. Transfer to serving platter and enjoy warm or at room temperature.
Drink Pairings