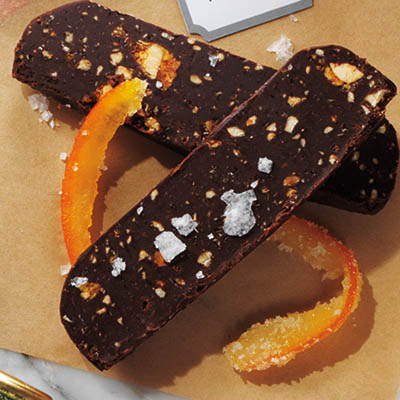 HAZELNUT PRALINE TRUFFLE SLICES
Ingredients
Serves 36 Slices
¾ cup (175 ml) granulated sugar
¾ cup (175 ml) skinned hazelnuts, toasted and chopped
1 lb (500 g) bittersweet chocolate, chopped
½ cup (125 ml) whipping cream
½ tsp (2 ml) vanilla extract
1 generous pinch sea salt
2 cups (500 ml) granulated sugar, divided
Instructions
Grease a 9 x 5 x 3-in (2 L) loaf pan and line with plastic wrap with edges extending over sides of pan. Line a baking sheet with parchment paper and set both aside.
To make praline, in a small, heavybottomed saucepan, combine sugar and water. Stir over medium heat until sugar is completely dissolved. Brush down sides of pan with a pastry brush dipped in water to remove any sugar crystals from sides of pan. Bring mixture to a boil over mediumhigh heat and boil gently just until mixture turns golden, about 7 to 10 minutes. Do not stir. Careful, as once sugar syrup turns golden it can darken and burn very quickly.
Remove from heat and stir in chopped hazelnuts. Pour onto parchment-lined baking sheet and spread out. Set aside to cool until firm.
Meanwhile, to melt chocolate, place cream in a medium, heavy-bottomed saucepan and bring almost to a boil. Add chopped chocolate and stir over medium-low heat until melted and smooth. Remove from heat and stir in vanilla, cayenne and salt.
When praline has cooled, place in a food processor and whirl until crushed. Stir into melted chocolate and pour into prepared loaf pan. Smooth top with a thin palate knife. Refrigerate for 3 hours or overnight until firm.
To make CANDIED ORANGE PEEL: Trim a slice off bottom and top of an orange. Then slice peel and white pith from orange and separate into 4 vertical segments. Cut segments into slivers. Cook in a small pot of boiling water for 15 minutes. Rinse and drain a couple of times to remove bitterness from pith.
Bring 1¼ cups (300 ml) sugar and ½ cup (125 ml) water to a boil in a medium-sized saucepan. Stir to dissolve sugar. Add peel, return to a boil, then reduce heat and simmer until peel is very soft, about 35 minutes. Drain peel thoroughly and toss strips with remaining ¾ cup (175 ml) sugar. Transfer to a baking sheet, separating strips so they will dry. Let stand to dry for 1 to 2 days. Can be made ahead and frozen for up to 2 months.
To garnish Truffle Slices, scatter candied peel down centre of loaf. Then cut into ¼-in (0.5 cm) thick slices and serve.
Drink Pairings