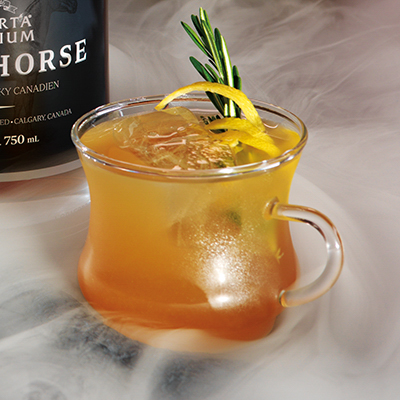 Ingredients
Serves 16
3 cups (750 ml) Alberta Premium Canadian Rye
2 cups (500 ml) lemon juice
2 cups (500 ml) Earl Grey Tea, Recipe follows
2 cups (500 ml) Rosemary Thyme Syrup, Recipe follows
rosemary sprigs, for garnish
lemon twists, for garnish
Instructions
In a 16-cup (4 L) vessel, add all ingredients. Stir to combine and chill in refrigerator for 3 hours. Transfer punch to a large bowl to serve. Ladle into glasses filled with ice and garnish with rosemary sprigs and lemon twists.
To make EARL GREY TEA: Combine ½ cup (125 ml) of loose leaf Earl Grey (or 8 bags) with 3 cups (750 ml) of room temperature filtered water and steep for 4 hours. Strain and refrigerate for up to 1 week.
To make ROSEMARY THYME SYRUP: In a saucepan, combine 1 cup (250 ml) each sugar and water, 4 sprigs rosemary and 4 sprigs thyme. Gently simmer on medium heat, stirring occasionally, until sugar has dissolved. Remove from heat, let cool; discard rosemary and thyme.
Featuring