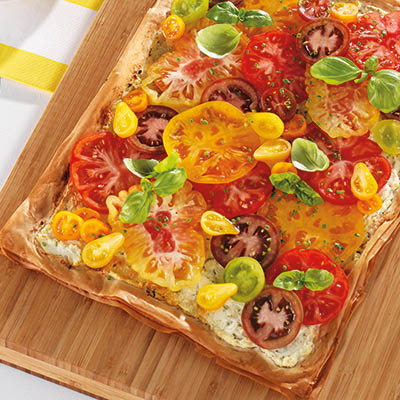 Ingredients
Serves 8
10 sheets of phyllo dough, trimmed to size of baking tray
⅓ cup (75 ml) extra-virgin olive oil, divided
9 tbsp (135 ml) plain breadcrumbs, divided
1¼ cups (310 ml) ricotta cheese
½ cup (125 ml) finely grated Parmesan
1 tbsp (15 ml) chopped fresh basil leaves, plus extra for garnish
1 tbsp (15 ml) chopped fresh chives, plus extra for garnish
½ tsp (2 ml) finely grated lemon zest
1 to 2 lbs (500 g to 1 kg) multi-coloured heirloom tomatoes, thinly sliced
salt and pepper, to taste
Instructions
Preheat oven to 375 F (190 C). Line a large rimmed baking tray with parchment paper and set aside.
Lay 1 sheet of phyllo on baking sheet, keeping remaining phyllo covered with a damp kitchen towel to prevent drying out. Brush lightly with olive oil and sprinkle all over with 1 tbsp (15 ml) breadcrumbs. Repeat layering with remaining phyllo, olive oil and breadcrumbs. Finish top layer with a brushing of oil.
In a medium bowl, stir together ricotta cheese, parmesan, basil, chives and lemon zest until well combined. Spread evenly over top of layered phyllo dough, leaving a 1-in (2.5 cm) border around edges.
Bake until phyllo is golden brown and crisp, about 25 to 28 minutes. Let tart base cool for 10 minutes before arranging tomato slices on top. Season with salt and pepper to taste before garnishing with additional basil leaves and chopped chives, if desired. Cut into squares and serve.
Drink Pairings