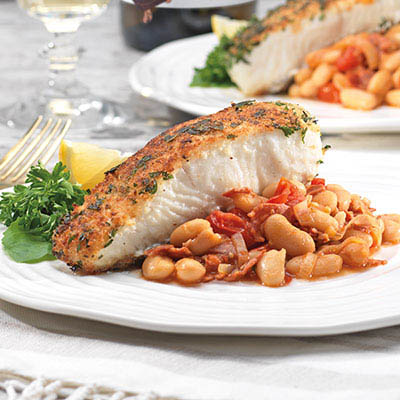 HERB-CRUSTED HALIBUT SERVED WITH WHITE WINE BEANS WITH CHORIZO
Ingredients
Serves 2
4 tbsp (60 ml) olive oil, divided
½ cup (125 ml) diced yellow onion
1 cup (250 ml) chopped chorizo
1 cup (250 ml) cherry tomatoes, halved
1 x 19 oz (540 g) can white kidney beans, drained and rinsed
½ cup (125 ml) dry white wine
¼ cup (60 ml) dried bread crumbs
3 tbsp (45 ml) chopped fresh parsley, divided
3 tbsp (45 ml) fresh thyme, stems removed
2 x 3 oz (90 g) halibut fillet
salt and pepper, to taste
1 tbsp (15 ml) mayonnaise
2 lemon wedges, for garnish
Instructions
In a medium-sized skillet over medium heat, heat 2 tbsp (30 ml) olive oil. Sauté onion and garlic until translucent, about 10 minutes. Add chorizo, sauté until crispy, remove from pan and set aside.
In same skillet, add cherry tomatoes, white beans and wine. Turn heat to low and simmer until liquid has fully reduced, about 10 to 15 minutes. Add chorizo mixture into skillet. Keep warm on low heat while cooking fish.
In a small bowl, mix bread crumbs, 2 tbsp (30 ml) parsley and the thyme. Set aside.
In a second skillet over medium heat, heat remaining 2 tbsp (30 ml) olive oil. Season all sides of halibut with salt and pepper, lightly brush mayonnaise over top of halibut with a pastry brush. Dip mayonnaise side of each fillet into bread crumb mixture. Place bread crumb side down in skillet. Cook each side for about 5 minutes, until fish is no longer translucent and bread crumbs are golden brown.
Divide beans among dinner plates and top with crusted fillet. Garnish with remaining parsley and lemon wedges.
Drink Pairings