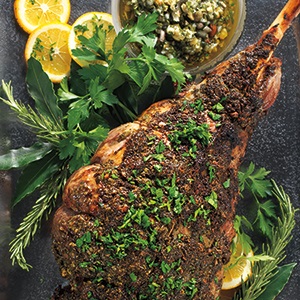 HERB-CRUSTED LAMB WITH MINT AND NUT GREMOLATA
Ingredients
Serves 6
5 to 6 lb (2½ to 3 kg) leg of lamb, bone-in
salt and freshly ground black pepper
1 cup (250 ml) mixed finely chopped fresh herbs such as sage, thyme and rosemary
1 cup (250 ml) packed flat-leaf parsley, chopped
1 tbsp (15 ml) lemon zest
¼ cup (60 ml) extra-virgin olive oil, plus extra for oiling pan
¼ cup (60 ml) extra-virgin olive oil
⅓ cup (75 ml) finely chopped fresh mint
⅓ cup (75 ml) finely chopped flat-leaf parsley
¼ cup (60 ml) pine nuts, toasted
1 tbsp (15 ml) each, lemon zest and juice
1 tbsp (15 ml) capers packed in salt, rinsed and drained
1 large garlic clove, finely minced
1 shallot, peeled and finely minced
Instructions
To make Lamb, preheat oven to 400 F (200 C). Shave any excess fat from leg. Place in a lightly oiled roasting pan. Sprinkle leg all over with salt and pepper.
Combine mixed chopped herbs, parsley, minced garlic cloves, lemon zest, and salt in a food processor fitted with a metal blade. Pulse until finely chopped. Add oil and continue to whirl until a coarse paste forms. Spread paste over lamb leg to evenly coat.
Roast lamb uncovered in preheated oven for 1¾ hours or until meat registers 125 F (52 C) for rare or 130 F (54 C) or longer for medium rare. Do not touch bone with thermometer or reading won't be accurate.
While lamb is roasting, make Gremolata. Combine all ingredients in a bowl. Stir together until blended. Set aside.
When lamb is roasted as desired, remove to a cutting board and loosely cover with foil. Let rest for 30 to 40 minutes before slicing and serving.
To serve, carve lamb and plate each serving with a spoon of Gremolata. Delicious with roasted vegetables.
Drink Pairings