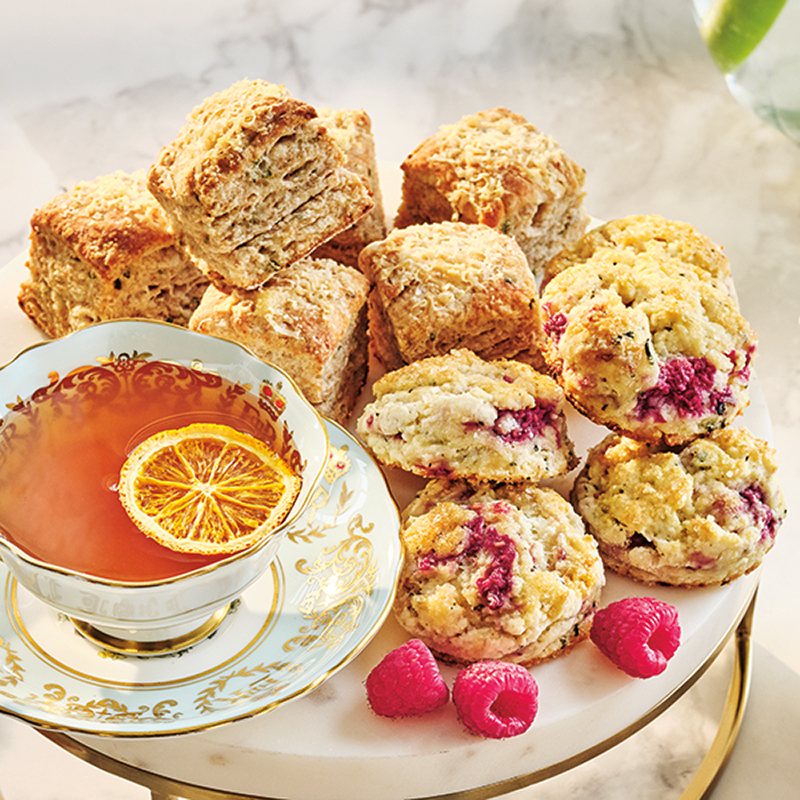 Ingredients
Serves 15 scones
1¼ cups (310 ml) spelt flour
1¼ cups (310 ml) all-purpose flour, plus extra as needed
1½ tsp (7 ml) fine sea salt
1 tbsp (15 ml) baking powder
½ cup (125 ml) unsalted butter, chilled, cut into cubes
1⅓ cups (325 ml) plain Greek yogurt
2 tbsp (30 ml) finely chopped fresh chives
1 tbsp (15 ml) finely chopped fresh tarragon leaves
¼ cup (60 ml) finely grated Parmesan, divided
butter or clotted cream, to serve (optional)
Instructions
Preheat oven to 450 F (230 C). Place an ungreased baking sheet in oven while it is preheating.
In a large bowl, whisk together flours, salt and baking powder. Add butter and rub it into flour mixture using fingertips, two butter knives or a pastry blender until mixture resembles coarse meal and butter is pea-sized
In a glass measuring cup or small bowl, whisk together yogurt, chives, tarragon and 2 tbsp (30 ml) Parmesan. Add yogurt mixture to flour and butter mixture and stir with a fork until a shaggy dough forms. Take care not to overmix; it is fine if there are a few patches of flour mixture remaining.
Turn dough out onto a lightly floured work surface and gently knead together about 4 or 5 times until dough comes together.
Press dough into a 1-in (2.5 cm) thick square then cut in half and stack one half on top of the other. Repeat twice more. Pat dough into a rectangle about ¾-in (2 cm) thick, then cut into 15 squares, each about 1½-in (3.75 cm) across.
Transfer biscuits to preheated baking sheet, leaving about ½-in (1.25 cm) between each. Sprinkle tops of scones with remaining 2 tbsp (30 ml) Parmesan. Bake, rotating pan halfway through cooking time, until bottoms are deeply golden brown and baked through, about 10 to 13 minutes. Serve warm or at room temperature the same day with butter or clotted cream, if desired.
Drink Pairings