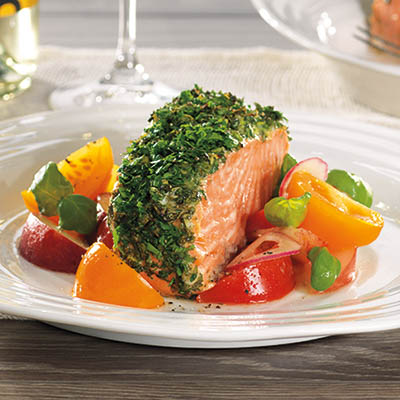 HERB SALMON WITH TOMATO-PEACH SALAD
Ingredients
Serves 6
2 lbs (1 kg) skinless, centre-cut salmon fillet
salt and pepper, to taste
1 tbsp (15 ml) fresh lemon juice
1 tbsp (15 ml) Dijon mustard
4 green onions, finely chopped
½ cup (125 ml) chopped fresh parsley
¼ cup (60 ml) chopped fresh cilantro
2 tbsp (30 ml) chopped fresh chives
2 tbsp (30 ml) chopped fresh tarragon
1 tbsp (15 ml) sherry vinegar
½ tsp (2 ml) liquid honey
2 tbsp (30 ml) extra-virgin olive oil
¼ cup (60 ml) thinly sliced red onions
3 or 4 heirloom tomatoes, cut into wedges
3 ripe peaches, cut into wedges
¼ cup (60 ml) roughly chopped fresh basil
salt and pepper, to taste
Instructions
Preheat oven to 425 F (220 C).
Place salmon fillet skin-side down in a baking dish large enough to accommodate. Season with salt and pepper.
In a small bowl, whisk together oil, lemon juice and mustard. Drizzle dressing evenly over salmon and let stand at room temperature for 15 minutes.
Meanwhile, in a medium-sized bowl, stir together green onions, parsley, cilantro, chives and tarragon. Pat herb mixture all over top of salmon to generously coat. Pour wine into dish around fillet.
Roast salmon until just cooked through, about 10 to 15 minutes, depending on thickness of fillet. To test, a paring knife should slide through easily and flesh should be opaque. Allow fish to rest for 10 minutes out of oven.
While salmon rests, make TOMATO-PEACH SALAD: In a mediumsized bowl, whisk together vinegar, honey and olive oil. Add onions and allow to sit for 10 minutes. Add tomatoes, peaches and basil along with a good pinch of salt and pepper before tossing to combine.
To serve divide Tomato-Peach Salad among serving plates. Cut salmon crosswise into serving pieces and place on top or alongside salad. Serve immediately.
Drink Pairings