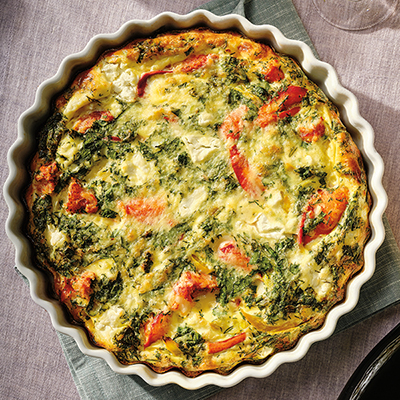 Ingredients
Serves 6
2 tbsp (30 ml) extra-virgin olive oil, plus extra for greasing
1 small yellow pepper, cut into thin strips
1 small leek, trimmed and thinly sliced into rounds
6-in (15 cm) zucchini, finely diced
¼ cup (60 ml) crumbled goat's cheese
4 oz (125 g) cooked lobster meat, drained and patted dry
⅓ cup (75 ml) whole milk or whipping cream
¼ tsp (1 ml) black pepper
1 tbsp (15 ml) minced fresh cilantro
1 tbsp (15 ml) minced fresh basil
1 tbsp (15 ml) minced fresh dill
2 tbsp (30 ml) grated Gruyere or Swiss cheese
Instructions
Preheat oven to 350 F (180 C). Place oven rack in lower third of oven. Generously grease a 9 or 10-in (23 or 25 cm) fluted tart pan or deep pie plate. Place on a baking sheet and set aside.
In a large heavy-bottmed skillet, heat oil. Add pepper, leek and zucchini and sauté over medium heat for 5 to 8 minutes, until softened and pepper is slightly golden. Transfer to tart pan, spreading evenly to cover base. Set aside to cool slightly. Scatter goat's cheese over top and tuck lobster meat throughout.
Crack eggs into a mixing bowl and add milk or cream. Whisk until frothy. Stir in salt, pepper and herbs. Pour into tart pan, lifting a few pieces of lobster to the surface with a fork to show off colour. Scatter cheese lightly over top.
Bake in lower third of oven for 30 to 35 minutes, until frittata is puffed and golden, and centre is firm when pan is jiggled.
Remove from oven and allow to rest for 5 minutes. Then cut into wedges and serve.
Drink Pairings