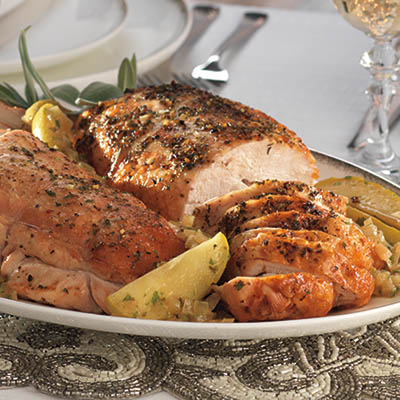 HERBED TURKEY BREAST WITH APPLE CALVADOS SAUCE
Ingredients
Serves 12
2 boneless turkey breast halves, about 2 lbs (1 kg each)
¼ cup (50 ml) unsalted butter, divided
1 tbsp (15 ml) finely chopped fresh or 2 tsp (10 ml) dry sage
1 tsp (5 ml) finely minced fresh rosemary
½ cup (125 ml) turkey or chicken stock
fresh sage leaves, for garnish
2 tbsp (30 ml) unsalted butter
2 shallots, peeled and finely minced
1 garlic clove, smashed and finely minced
2 unpeeled Granny Smith apples, cored and cut into thin wedges
2 tbsp (30 ml) all-purpose flour
3 tbsp (45 ml) Calvados or brandy
1 cup (250 ml) unsweetened apple cider
1 cup (250 ml) turkey or chicken stock
3 tbsp (45 ml) whipping cream, optional
Instructions
Preheat oven to 400 F (200 C). Rub each breast with 1 tbsp (15 ml) butter. Evenly sprinkle breasts with sage, rosemary and lemon zest. Generously sprinkle with salt and pepper.
Place side by side on a rack in a roasting pan. Pour stock in bottom of pan. Roast turkey, uncovered, for 20 minutes. Reduce temperature to 350 F (180 C) and continue to roast for 45 minutes to 1 hour, or until turkey registers 170 F (75 C) on a meat thermometer inserted into the centre. Baste occasionally with remaining butter while roasting. Remove and transfer to a cutting board. Loosely cover with a tent of foil while preparing sauce.
To make APPLE CALVADOS SAUCE: In a large frying pan, melt butter over medium heat. Add shallots and garlic and sauté just until soft. Add apple slices and sauté until almost soft. Set pan aside.
Place roasting pan with turkey drippings on burner over medium heat. Scrape pan drippings and whisk in flour, stirring until slightly golden. Mixture will be very crumbly. Deglaze pan with Calvados. Whisk in apple cider and stock, stir over medium heat until thickened. Strain through a finemeshed sieve into frying pan with apples and shallots. Gently heat before serving.
Slice turkey breast on the diagonal and place on a warm platter. Spoon Apple Calvados Sauce over top, and transfer remaining sauce to a gravy boat. Garnish platter with fresh sage leaves.
Drink Pairings