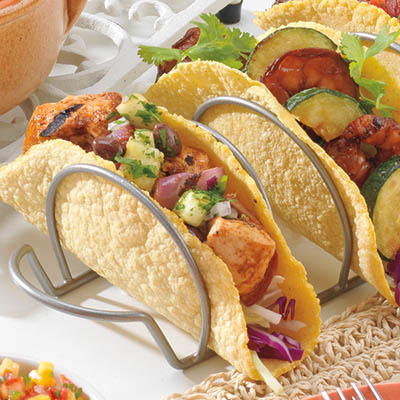 Ingredients
Serves about 13 to 16 tortillas
2 cups (500 ml) instant masa harina, either yellow corn or white corn variety
1½ cups (375 ml) hot water, not boiling
Instructions
In a large bowl, stir together masa harina and salt. Add water and with your hands, mix and knead until a smooth dough forms. Check consistency by pinching off a bit of dough and flattening it between your palms. If large cracks form or it is crumbly, add more water 1 tbsp (15 ml) at a time. Dough should be soft and flatten easily with few, if any, cracks forming around outer edge.
Cut top from a large zip-top bag and cut open remaining two sides to create two large plastic squares. Set aside.
For larger 6-in (14.5 cm) tortillas, divide dough into 1.5 oz (45 g) balls. For smaller 4-in (10 cm) tortillas, divide dough into 1 oz (45 g) balls. While shaping and cooking tortillas, keep dough covered with a damp kitchen towel.
Heat a griddle or large cast iron pan over medium-high heat. Open tortilla press, place a drop of oil on bottom plate and lay down one plastic square. Working with one ball of dough at a time, place ball in center of bottom plate and flatten slightly with your palm. Place second plastic square over dough and press using a tortilla press. Open press, peel off plastic square and take your tortilla to the griddle. Cook on griddle, flipping once, until surface is brown in spots and appears dry, 30 seconds to 1 minute per side. Continue shaping and cooking remaining tortillas. As they are cooked, wrap them in a kitchen towel to keep warm. Tortillas are best eaten freshly made. Tortillas may be made up to an hour before serving. Warm by wrapping in a damp kitchen towel and then in foil before heating in a 200 F (93 C) for about 10 minutes.
Drink Pairings