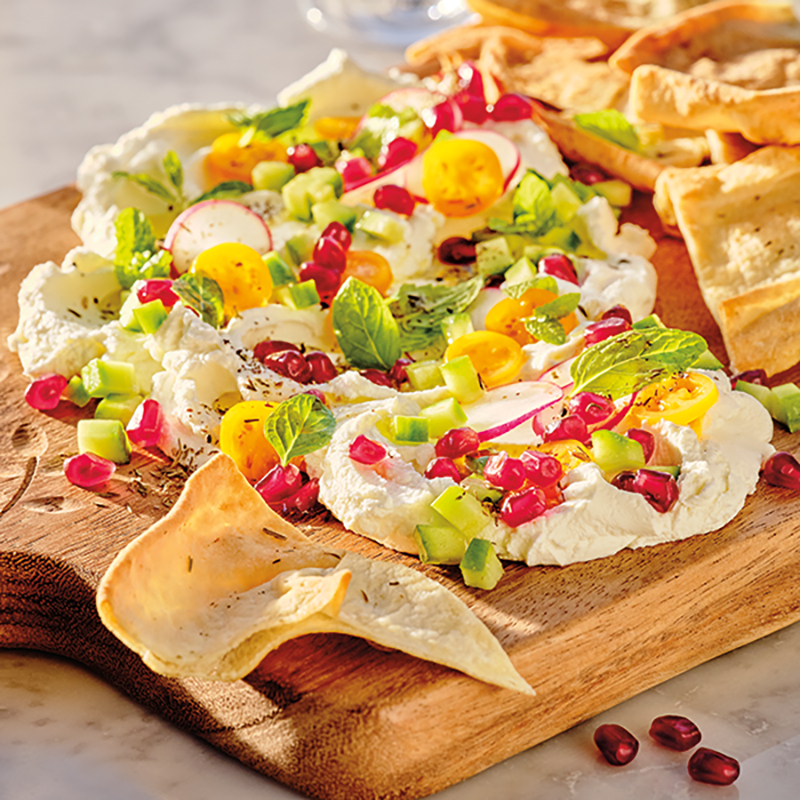 Homemade Labneh Board
A bevy of boards, both sweet and savoury, perfect for sharing.
Ingredients
Serves 8
4 cups (1 L) whole milk yogurt
½ tsp (2.5 ml) kosher salt
2 red radishes, very thinly sliced on a mandoline
1 Persian cucumber, finely diced
6 yellow cherry tomatoes, sliced into rounds
⅓ cup (75 ml) pomegranate seeds
2 tbsp (30 ml) fresh mint leaves, large leaves roughly torn
2 tbsp (30 ml) za'atar spice
2 tbsp (30 ml) extra-virgin olive oil
warm pita bread, for serving
Instructions
Place a fine mesh sieve over a large bowl and line with 2 layers of cheesecloth. In a medium bowl, stir together yogurt and salt before transferring to cheesecloth-lined sieve. Fold corners of cheesecloth over yogurt and place in refrigerator to allow whey to drain away from yogurt for at least 24 hours and up to 36 hours, resulting in homemade labneh.
Thickly spread labneh on cutting board. Using a knife or back of a spoon, add swirls, peaks and valleys in labneh.
When ready to serve, sprinkle labneh with radish rounds, diced cucumber, cherry tomatoes, pomegranate seeds, mint and za'atar. Drizzle with olive oil and serve alongside warm pita bread for dipping.
Drink Pairings