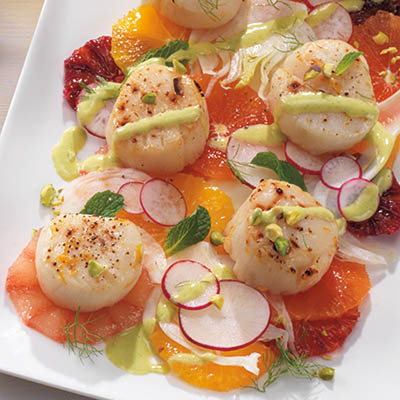 HONEY-BROILED SCALLOP SALAD
Ingredients
Serves 6
¼ cup (60 ml) liquid honey, divided
1 tbsp (15 ml) grape seed oil
1 Meyer lemon, finely grated zest and juice
salt and pepper, to taste
12 large scallops, cleaned and heel removed
1 tbsp (15 ml) chopped fresh tarragon
1 tbsp (15 ml) white wine vinegar
½ tbsp (7 ml) Dijon mustard
1 tbsp (15 ml) extra-virgin olive oil
1 large fennel bulb, trimmed, fronds reserved for garnish
2 tbsp (30 ml) chopped pistachios
1 tbsp (15 ml) coarsely chopped mint leaves
Instructions
In a bowl, whisk together 3 tbsp (45 ml) honey, grape seed oil, lemon zest and juice along with a pinch of salt and pepper. Add scallops to marinade and stir to coat. Refrigerate, stirring occasionally, for 1 hour.
Meanwhile, cut away rind and all white pith from half of an orange, then cut into chunks and place in a blender. Add remaining 1 tbsp (15 ml) honey, tarragon, vinegar, mustard and olive oil, before blending until smooth. Season to taste with salt and pepper before setting aside.
Preheat broiler. Cut away rind and all white pith from grapefruit and remaining orange. Cut fruit into thin rounds. Using a sharp knife or mandoline, slice fennel bulb and radishes into paperthin slices, reserving fennel fronds for garnish. Arrange citrus fruit, fennel and radish slices on serving plates.
In a broiler-proof dish, arrange scallops along with marinade in a single layer. Broil 4-in (10 cm) from heat source until opaque throughout and lightly browned, about 4 to 7 minutes.
To finish, place 3 scallops on each salad, drizzle with reserved dressing, and garnish with pistachios, reserved fennel fronds and mint. Serve immediately.
Drink Pairings