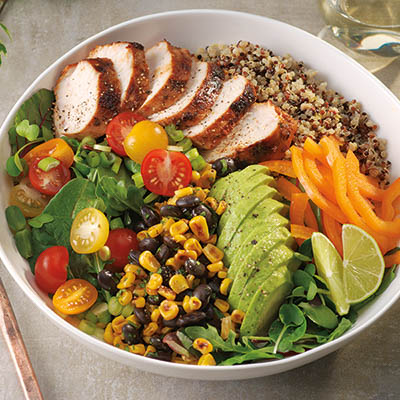 HONEY CHIPOTLE CHICKEN BURRITO BOWL
Ingredients
Serves 4
¼ cup (60 ml) finely chopped, chipotle chilies in adobo sauce
4 tbsp (60 ml) clover honey, divided
2 tbsp (30 ml) Dijon mustard
4 tbsp (60 ml) chopped fresh cilantro leaves, divided
2 tsp (10 ml) minced garlic
½ tsp (2 ml) pepper, plus extra for seasoning
1 tsp (5 ml) salt, plus extra for seasoning
1 lb (500 ml) boneless, skinless chicken breasts
½ cup (125 ml) tri-coloured quinoa
1 cup (250 ml) chicken stock
½ tsp (2 ml) finely grated lime zest
¾ cup (175 ml) fresh or frozen corn
1 cup (250 ml) cooked black beans
6 cups (1.5 L) mixed baby spring greens
12 multi-coloured cherry tomatoes, halved
1 orange pepper, julienned
2 green onions, finely sliced
1 tbsp (15 ml) lime juice
2 tbsp (30 ml) extra-virgin olive oil
Instructions
In a medium bowl, whisk together olive oil, chipotle chilies, 3 tbsp (45 ml) honey, mustard, 2 tbsp (30 ml) cilantro, shallot, garlic, pepper and salt. Place chicken in a shallow dish or resealable plastic bag and add chipotle mixture. Turn chicken to coat evenly with marinade before placing in refrigerator to marinate for at least 4 hours or overnight.
In a large saucepan over medium-high heat, combine quinoa and stock, bring to a boil before reducing heat to low, covering and let simmer for 15 minutes or until liquid is absorbed. Remove from heat and stir in lime zest and salt and pepper to taste. Set aside.
Heat a large cast iron or non-stick skillet over medium-high heat. Remove chicken from marinade and place in hot skillet. Cover and cook, turning once or twice, until each side is a deep golden brown and chicken is cooked through, about 8 to 12 minutes total. Transfer chicken to a cutting board and let rest for 10 minutes before cutting into ½-in (1.25 cm) strips.
Wipe out skillet and place back over high heat. Add corn and sauté until starting to caramelize, about 4 minutes. Stir in black beans and cook, stirring constantly, until warmed through, about 1 minute. Remove skillet from heat and stir in remaining 2 tbsp (30 ml) cilantro.
When ready to serve, divide salad greens between serving bowls. Top with chicken, quinoa, black bean mixture, tomatoes, avocado, peppers and green onions. In a small bowl, whisk together remaining 1 tbsp (15 ml) honey, lime juice, olive oil and a pinch of salt and pepper until well combined. Drizzle over top of each bowl just before serving. Serve with lime wedges to add an extra squeeze of lime juice, if desired.
Drink Pairings