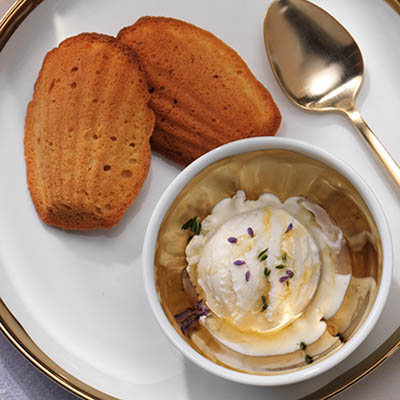 HONEY MADELEINES WITH GOAT'S MILK YOGURT SORBET
Requires an ice cream maker and Madeleine moulds.
Ingredients
Serves 6
2 cups (500 ml) goat's milk yogurt
½ cup (125 ml) whipping cream
½ cup (125 ml) goat's milk
12 tbsp (180 ml) granulated sugar, divided
¼ cup (60 ml) liquid honey, divided, plus extra for garnish
1½ tsp (7 ml) orange zest, divided
¾ tsp (4 ml) dried culinary lavender, plus extra for garnish
1 cup (250 ml) all-purpose flour
½ tsp (2 ml) baking powder
½ cup (125 ml) unsalted butter, melted, plus extra for greasing pans
½ tsp (2 ml) chopped fresh thyme, plus extra for garnish
Instructions
Two days before you plan on serving, place yogurt in a cheesecloth-lined colander set over a bowl. Cover and refrigerate overnight allowing whey to drain away leaving a very thick yogurt. Discard whey.
In a medium-sized saucepan, combine cream, goat's milk, 6 tbsp (90 ml) sugar, 2 tbsp (30 ml) honey, ½ tsp (2 ml) orange zest and lavender. Set over medium heat and bring just to a simmer. Remove from heat and allow mixture to sit, covered, for 1 hour. Strain into a bowl and whisk in reserved strained yogurt. Refrigerate until mixture is cold, at least 4 hours or overnight.
Meanwhile, make madeleine batter. In a bowl, whisk together flour and baking powder. Set aside.
In bowl of a stand mixer fitted with whisk attachment, whisk together remaining 2 tbsp (30 ml) honey, butter, remaining 6 tbsp (90 ml) sugar, remaining 1 tsp (5 ml) orange zest, thyme, eggs and egg yolk until very smooth, about 2 minutes at medium speed. Gradually add flour mixture a couple of tablespoons at a time. Then whisk for another minute. Cover and refrigerate batter overnight.
The day you are going to serve dessert, churn sorbet in an ice cream maker according to manufacturer's instructions. Transfer to an airtight container and freeze until ready to enjoy.
To finish madeleines, preheat oven to 400 F (200 C). Prepare madeleine moulds by brushing liberally with extra melted butter.
Spoon batter into moulds until ¾ full. Bake until golden brown and puffed, about 8 to 10 minutes. Turn baked madeleines out onto a wire rack and let cool. Wipe out moulds and repeat with remaining batter. Serve madeleines warm with Goat's Milk Yogurt Sorbet, drizzled with extra honey and scattered with extra lavender and thyme leaves, if desired.
Drink Pairings