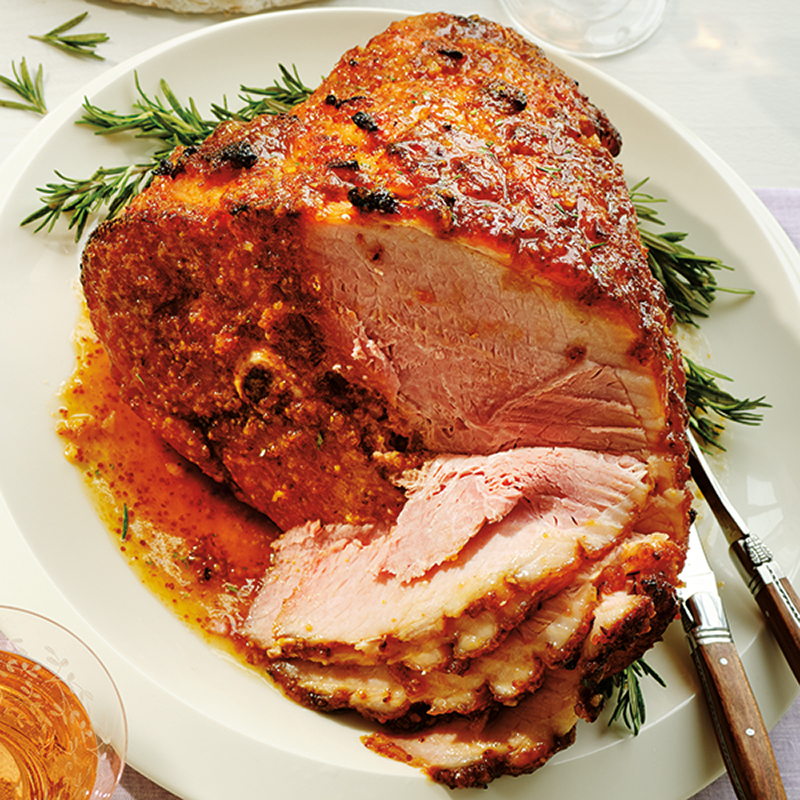 Ingredients
Serves 6
5 lb (2.27 kg) bone-in half ham, skin removed (do not trim fat)
1 whole rosemary sprig, plus extra for garnish
1 cup (250 ml) grainy Dijon mustard
½ cup (125 ml) brown sugar
1 tsp (5 ml) ground allspice
1 tsp (5 ml) ground cinnamon
½ tsp (2.5 ml) cayenne pepper
2 tsp (10 ml) black pepper
Instructions
Using a sharp knife, carefully score a 1-in (2.5 cm) diamond pattern into the fat of the ham, ¼-in (0.5 cm) deep.
Place ham on a rimmed, parchment-lined baking sheet and let it come to room temperature, about 1 to 2 hours.
Preheat oven to 325 F (170 C).
Pour ¼ cup (60 ml) water onto baking sheet with ham and cover entire sheet with foil. Transfer to oven and bake for 20 minutes.
Meanwhile, melt butter in a saucepan over medium heat. Cook until butter is light brown, watching carefully and stirring occasionally; timing will vary depending on stove.
Add garlic and 1 rosemary sprig and cook until fragrant, about 30 seconds. Stir in mustard, honey, brown sugar, spices and hot sauce. Bring to a simmer, then remove from heat and set aside.
Remove ham from oven and remove foil. Brush a quarter of the glaze over ham, making sure to spread it into scored areas.
Return ham to oven and bake, uncovered, for about 1½ to 2 hours, or until ham reaches an internal temperature of 145 F (63 C). Glaze ham every 10 to 15 minutes, rewarming glaze if it cools too much to brush on ham.
Once ham is cooked, remove from oven and let rest for 10 minutes before slicing. Transfer to a serving platter and garnish with whole rosemary sprigs.
Drink Pairings