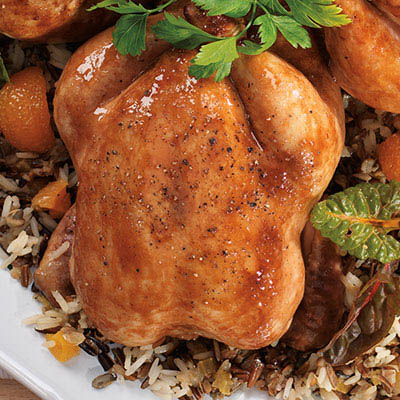 HONEY RUM-GLAZED CORNISH HENS SERVED WITH WILD RICE STUFFING
Ingredients
Serves 8
3 tbsp (45 ml) unsalted butter, divided
½ medium yellow onion, chopped
¾ cup (175 ml) uncooked wild rice
2¾ cup (675 ml) unsalted chicken stock, divided
½ cup (125 ml) jasmine rice
½ cup (125 ml) chopped dried apricots
1 tsp (5 ml) chopped fresh thyme leaves
2 tbsp (30 ml) chopped fresh flat leaf parsley leaves
4 Cornish hens (about 1¼ lbs (567 g) each)
4 Meyer lemons or regular lemons, halved
3 tbsp (45 ml) grapeseed oil
salt and pepper, to taste
Instructions
Preheat oven to 425 F (220 C). Place an oiled wire rack in a large, rimmed baking sheet, set aside.
In a medium saucepan over medium-high heat, melt 1 tbsp (15 ml) butter. Add onions and celery, cook, stirring often, until onions have softened, about 5 minutes. Stir in garlic and wild rice, cook, stirring constantly, for 1 minute. Add 2 cups (500 ml) chicken stock and bring to a boil. Once boiling, reduce heat to low, cover and simmer until rice is tender and liquid has absorbed, about 1 hour.
While wild rice is cooking, in a small saucepan combine remaining ¾ cup (175 ml) stock with jasmine rice and bring to a boil over high heat. Cover, reduce heat to low and simmer until all stock has been absorbed, about 8 to 10 minutes. Remove saucepan from heat and let stand, covered, for 5 minutes. Fluff rice with a fork and stir in chopped apricots, thyme and parsley. Fold into wild rice mixture.
In a small saucepan over medium-high heat, bring rum, honey and thyme sprig to a boil. Reduce liquid to about ¼ cup (60 ml), about 5 to 8 minutes. Remove from heat and swirl in remaining 2 tbsp (30 ml) butter and discard thyme sprig. Set aside.
Stuff each Cornish hen with 2 lemon halves before tying ends of legs together with kitchen twine and tucking wing tips under back. Place each hen, breast side up, on prepared wire rack. Rub each with grapeseed oil and season lightly with salt and pepper. Roast until a thermometer inserted in thigh registers 160 F (71 C), about 30 to 35 minutes.
Brush hens with rum mixture and continue to bake until hens are golden brown and a thermometer inserted in thigh registers 165 F (74 C), about another 10 minutes. If hens are browning too quickly, tent with tinfoil. Transfer rice to a baking dish, drizzle with a little chicken stock, cover with tinfoil and warm alongside hens in oven for the last 10 minutes of cooking. Once removed from oven, let hens rest at least 10 minutes.
To serve, place rice on a platter and arrange roasted hens over top. Enjoy while warm.
Drink Pairings