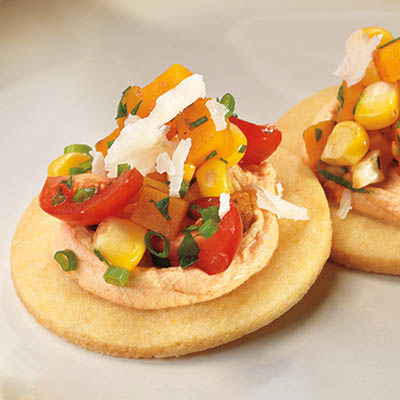 HONEY SHORTBREAD WITH FALL SALSA
Ingredients
Serves about 24
1½ cups (375 ml) all-purpose flour
½ cup (125 ml) finely ground yellow cornmeal
¼ cup (60 ml) granulated sugar
¾ cup (175 ml) cold unsalted butter, cut into ½-in (1 cm) pieces
¼ cup (60 ml) liquid clover honey
8 oz (250 g) plain cream cheese
2 tbsp (30 ml) whipping cream
1 tsp (5 ml) sweet smoked paprika
½ tsp (2 ml) garlic powder
1 cup (250 ml) diced, pumpkin
½ cup (125 ml) corn kernels
15 cherry tomatoes, quartered
1 tbsp (15 ml) finely chopped fresh parsley
1 tbsp (15 ml) finely chopped fresh chives
salt and pepper, to taste
Parmesan shards, for garnish
Instructions
To make HONEY SHORTBREAD: In a large bowl, whisk together flour, cornmeal, sugar and salt. Using fingers, incorporate butter into dry ingredients until mixture resembles coarse crumbs. Stir in honey until mixture begins to come together. Knead dough in bowl by gently folding 4 to 5 times, until dough holds together. Divide dough in half, form each into a slightly flattened disk and wrap tightly with plastic wrap and refrigerate, 1 hour.
Preheat oven to 325 F (170 C). Lightly flour a large work surface. Working with a disk of dough at a time, roll out to 1⁄4-in (0.5 cm) thickness. Cut out circles using a 21⁄4-in (5.5 cm) round cookie cutter before placing on an ungreased baking sheet about 1-in (2.5 cm) apart. Gather up extra dough and reroll, cut and bake until lightly golden brown, 12 minutes. Let cool on baking sheet for 5 minutes before transferring to a wire rack to cool. Repeat rolling and baking with remaining dough.
While shortbread cools, make SMOKY CHEESE SPREAD: In a medium- sized bowl, stir together cream cheese and cream with a spatula until smooth. Stir in paprika, dry mustard, garlic powder and salt to combine. Set aside.
To make FALL VEGETABLE SALSA: Warm oil in a frying pan over medium heat. Add pumpkin and sauté until lightly caramelized and softened but not mushy, 2 minutes. Stir in corn and continue to sauté another minute. Transfer to a medium-sized bowl and cool for 5 minutes. Stir in tomatoes, parsley and chives. Season to taste with salt and pepper.
To serve, top each shortbread with 2 tsp (10 ml) cheese spread. Transfer to a platter and top with a small spoonful of salsa and garnish with Parmesan.
Drink Pairings