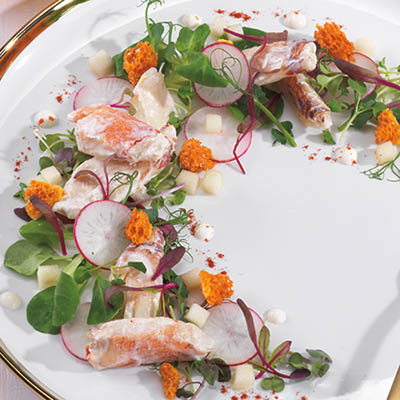 HONEYCOMB CANDY AND CRAB SALAD
Ingredients
Serves 6
2 tbsp (30 ml) granulated sugar
2 tbsp (30 ml) apple cider vinegar
1 large Granny Smith apple
SMOKED PAPRIKA HONEYCOMB CANDY:
vegetable oil, to grease pan
1¼ cup (300 ml) granulated sugar
2 tbsp (30 ml) light corn syrup
3 tbsp (45 ml) liquid honey
2 tbsp (30 ml) baking soda
¾ tsp (4 ml) sweet smoked paprika, divided
1 large egg, at room temperature
½ tbsp (7 ml) Dijon mustard
½ tbsp (7 ml) champagne vinegar or white wine vinegar
½ cup (125 ml) vegetable oil
1 tbsp (15 ml) lemon juice
1 lb (500 g) cooked mixed crabmeat
4 cups (1 L) mixed spring greens (baby lettuce, sorrel, watercress, basil and pea shoots)
3 radishes, trimmed and thinly sliced into rounds
sweet smoked paprika, for garnish (optional)
Instructions
To make PICKLED APPLES: In a bowl whisk together sugar, vinegar and coriander seeds until sugar has dissolved.
Peel, core and finely dice apple before adding to vinegar mixture. Refrigerate, stirring occasionally, for 2 hours. Drain before using.
To make SMOKES PAPRIKA HONEYCOMB CANDY: Liberally grease a 10-in (25 cm) round springform pan with vegetable oil. Line bottom of pan with parchment paper and run a parchment collar up side of pan, 1 to 2-in (2.5 to 5 cm) above edge. Liberally grease parchment and set aside.
In a deep, heavy-bottomed saucepan stir together sugar, corn syrup, honey and water. Place over medium-high heat and bring to a boil without stirring. Cook until mixture reaches 290 F (140 C) on a candy thermometer, or hardcrack stage, about 10 minutes. During cooking, if any sugar crystals form on sides of pan, brush down sides with a clean pastry brush dipped in water.
Working quickly, remove sugar mixture from heat and whisk in baking soda and ¼ tsp (1 ml) smoked paprika. Take care as mixture will bubble up and be very hot. Immediately pour honeycomb candy into prepared pan.
Sprinkle top of warm honeycomb candy with remaining ½ tsp (2 ml) smoked paprika and let cool to room temperature on a wire rack. When cool, break into pieces and serve. Honeycomb can be stored at room temperature in an airtight container.
When ready to make CRAB SALAD: In a blender, mix together egg, mustard, vinegar, lemon zest and salt. With blender running, very gradually add oil until mixture has emulsified and thickened. Briefly blend in lemon juice and refrigerate dressing until ready to finish salad.
Place crabmeat in a bowl, removing any shell remnants. Toss crab with half the dressing. Whisk water into remaining dressing.
Divide salad greens onto serving plates. Garnish with radishes, dressed crab, some Pickled Apples and a sprinkle of prepared honeycomb candy. To finish, drizzle with remaining dressing, dust with sweet smoked paprika (if desired) and serve immediately.
Drink Pairings