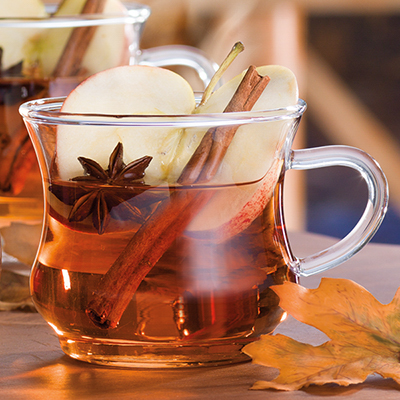 Ingredients
Serves 12
5 whole allspice, gently cracked
1 orange, peel only, pith removed
1 lemon, peel only, pith removed
1 small piece ginger, peeled and sliced into 2 coins
1 x 12-in (30 cm) cheesecloth square
4¼ cups (1.25 L) organic apple juice
¼ cup (60 ml) cranberry juice
3 tbsp (45 ml) organic maple syrup
12 oz (360 ml) Appleton Estate Rum
Instructions
Place cloves, allspice, star anise, cinnamon stick, ginger, orange and lemon peel into centre of cheesecloth, then gather corners and tie with string to create a sachet.
Into an 8-cup (2 L) pot, add apple juice, cranberry juice and maple syrup. Then add sachet of spices and citrus peels and bring to a boil. Reduce to simmer for an additional 20 to 30 minutes.
Remove sachet from pot, but do not discard, you can reuse sachet if needed.
Using a ladle, measure about 4 oz (120 ml) hot spiced cider into a cup or mug and add 1 oz (30 ml) rum per serving. Store any unused cider in a sealed bottle in refrigerator for up to 3 weeks.
Featuring