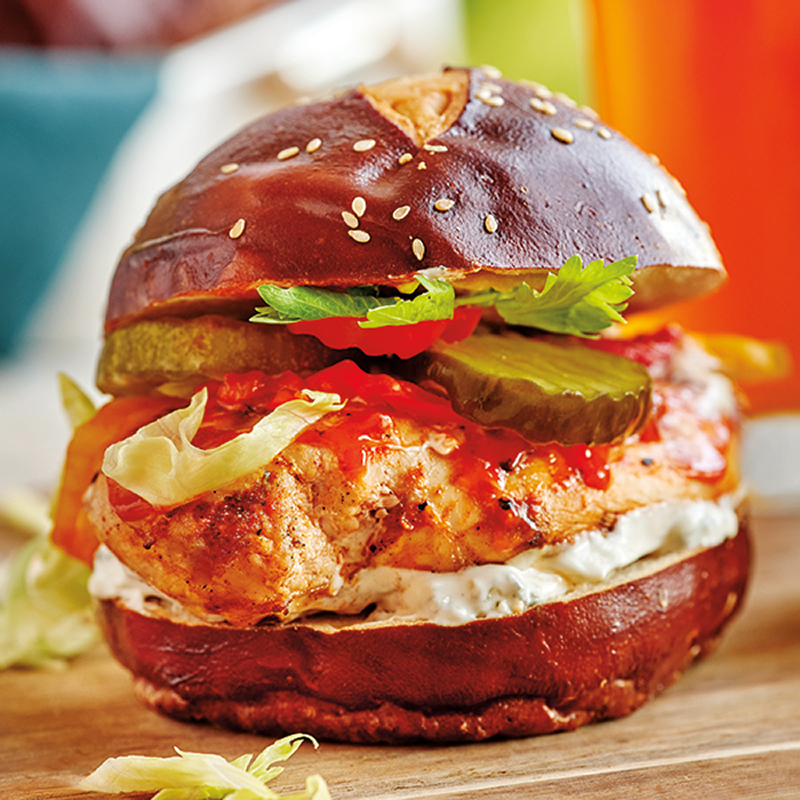 Ingredients
Serves 4
½ cup (125 ml) buttermilk
1 tsp (5 ml) seasoning salt
1 tsp (5 ml) garlic powder
1 tsp (5 ml) onion powder
1 cup (250 ml) hot wing hot sauce, divided
4 boneless, skinless chicken breasts, tenders removed and kept for another use
2 tbsp (30 ml) vegetable oil
¼ cup (60 ml) melted butter
¼ cup (60 ml) crumbled blue cheese
2 tsp (10 ml) chopped chives
4 celery stalks with leaves
16 slices bread and butter pickles
sliced banana peppers, to taste
Instructions
In a bowl, mix buttermilk, seasoning salt, garlic and onion powder, pepper and ¼ cup (60 ml) hot wing sauce. Add chicken breasts and mix to coat. Cover and marinate in refrigerator for at least 2 hours, or overnight.
Preheat barbecue to medium-high and grease grills with vegetable oil. Remove chicken from refrigerator, wipe off excess marinade and set aside. Mix remaining æ cup (175 ml) hot sauce and melted butter.
To make blue cheese sauce, in a small bowl, mix blue cheese, mayonnaise, sour cream and chives. Set aside.
Grill chicken on barbecue for 8 to 12 minutes, or until juices run clear, turning and basting constantly with hot sauce butter mix.
While chicken is cooking, grill buns cut-side down on barbecue until heated through and golden brown, about 1 to 2 minutes. Remove leaves from celery stalks and set aside. Cut stalks into sticks.
Remove chicken and buns from barbecue once done. To assemble burgers, spread each side of buns with blue cheese sauce. Place a chicken breast on each bottom bun, top with bread and butter pickles, banana peppers, lettuce, celery leaves and top of each bun. Serve with celery sticks and remaining blue cheese sauce for dipping celery.
Drink Pairings