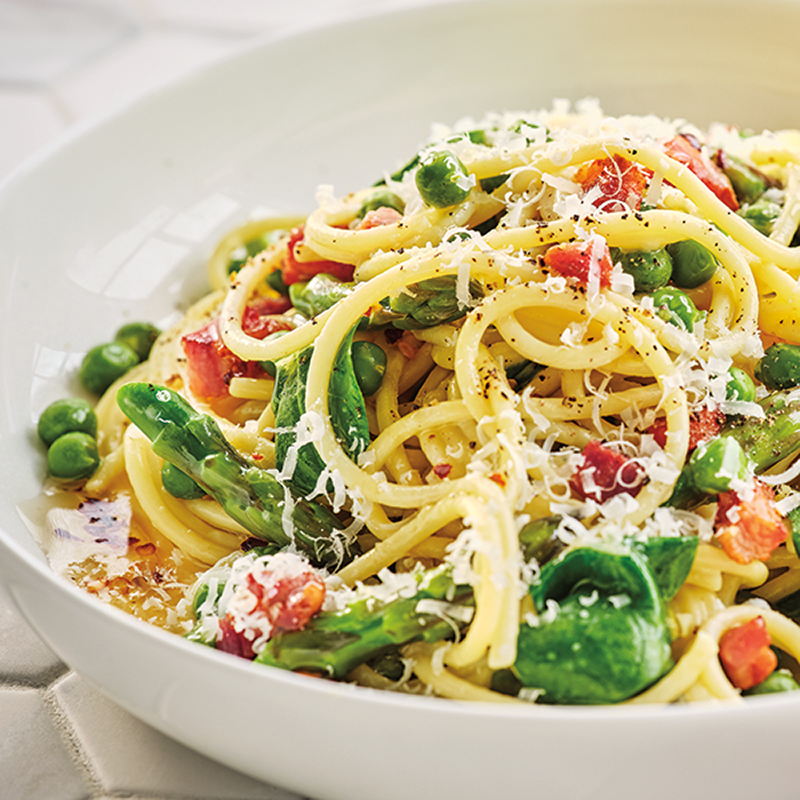 Hot Honey Spring Carbonara
Ingredients
Serves Serves 4
1 cup (250 ml) clover honey
1 tsp (5 ml) crushed red chili flakes
1 tbsp (15 ml) apple cider vinegar
½ lb (250 g) dried spaghetti
1 cup (250 ml) finely grated Parmesan, divided
½ tsp (2.5 ml) freshly ground black pepper
½ cup (125 ml) diced pancetta
1 cup (250 ml) frozen green peas, thawed
10 to 12 spears asparagus, cut into 1-in (2.5 cm) pieces
1 cup (250 ml) packed baby spinach
Instructions
To make hot honey, in a small saucepan over low heat, stir together honey, chili flakes and vinegar. Cook, stirring occasionally, for 15 to 20 minutes. Honey should be warm but should never come to a simmer. Remove from heat and let cool to room temperature. Transfer to an airtight container; honey will keep in a cool, dry place for up to 6 months and will get spicier the longer it sits.
Bring a large pot of water to a boil. Cook spaghetti according to package directions, reserving 1 cup (250 ml) pasta cooking water. Drain and set pasta aside
Meanwhile, in a medium bowl, whisk together egg yolks with ¾ cup (175 ml) Parmesan, pepper and salt until well combined. Set aside.
In a large skillet, cook pancetta over medium heat, stirring occasionally, until crisp, 6 to 8 minutes. Using a slotted spoon, transfer to a paper towel-lined plate. Drain all but 2 tbsp (30 ml) fat from skillet. Return half the pancetta to skillet along with peas and asparagus and cook over medium heat, stirring, until heated through, about 2 minutes. Add spinach and let wilt. Remove skillet from heat. Add pasta and ½ cup (125 ml) reserved cooking water. Toss everything together. If pasta has cooled, return to heat, tossing for another 1 to 2 minutes, until hot.
Working quickly, scrape egg yolk mixture into hot pasta. Toss until sauce is thickened, adding additional reserved pasta cooking water if needed to reach desired consistency. Divide between warm plates and garnish with a drizzle of reserved hot honey, as desired. Alternatively, mix 1 to 2 tbsp (15 to 30 ml) of hot honey into pasta before plating. To finish, sprinkle with remaining ¼ cup (60 ml) Parmesan and pancetta, and serve.
Drink Pairings