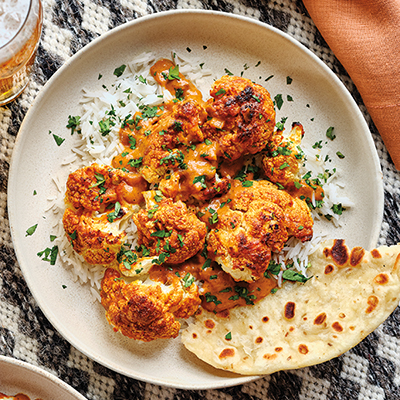 INDIAN BUTTER CAULIFLOWER
Ingredients
Serves 4
2 tbsp (30 ml) coconut oil, melted, plus extra for greasing
1 large head cauliflower, cut into florets
2½ cups (625 ml) coconut milk, divided
3 garlic cloves, finely minced, divided
1 tbsp (15 ml) finely grated fresh ginger
½ yellow onion, finely chopped
1 tbsp (15 ml) garam masala
2 tsp (10 ml) yellow curry powder
½ tsp (2.5 ml) turmeric powder
1 tsp (5 ml) smoked paprika
1 x 5.5 oz (156 ml) can tomato paste
¼ cup (60 ml) cilantro leaves, roughly chopped, plus extra for garnish
cooked basmati rice, to serve
1 cup (250 ml) all-purpose flour
1 cup (250 ml) whole wheat flour
¾ tsp (4 ml) baking powder
2 tsp (10 ml) kosher salt
1 cup (250 ml) whole milk yogurt
¼ cup (60 ml) grapeseed oil
Instructions
Place oven rack in top third of oven and preheat broiler. Lightly grease a rimmed baking sheet with coconut oil and set aside.
Meanwhile, in a large bowl, stir together cauliflower, ½ cup (125 ml) coconut milk, half of minced garlic, ginger and salt. Marinate for 10 minutes, then spread out evenly on prepared baking sheet. Broil until just beginning to char around edges, about 3 to 4 minutes. Remove from oven and set aside.
In a large skillet, heat 2 tbsp (30 ml) coconut oil over medium heat. Add onion and cook, stirring often, until translucent, about 5 minutes. Add remaining garlic and cook another 2 minutes. Stir in garam masala, curry powder, turmeric and paprika, stirring constantly for 1 minute. Stir in tomato paste and remaining 2 cups (500 ml) coconut milk. Bring sauce to a hard simmer and allow to cook, stirring occasionally, until thickened slightly, about 5 minutes. Add cauliflower and any juices in baking sheet to sauce. Cook until warmed through, about 3 minutes. If sauce gets too thick for your liking, feel free to thin with additional coconut milk or water. Remove from heat and stir in cilantro.
Serve over warm basmati rice with Cumin Yogurt Flatbread.
CUMIN YOGURT FLATBREAD:
In a large cast iron skillet or heavy-bottomed frying pan, toast cumin seeds over medium heat, stirring often, until fragrant, about 3 minutes. Transfer to a mortar and pestle and allow to cool for 2 minutes. Grind cumin seeds coarsely.
Transfer cumin to a medium bowl along with flours, baking powder and salt. Whisk until well combined. Stir in yogurt. Transfer dough to a clean work surface and knead until mostly smooth, about 1 minute. Divide dough into 4 roughly equal-sized pieces. Cover with a clean kitchen towel and allow to rest for 15 minutes.
Working with 1 piece at a time on a lightly floured work surface, roll dough until about ¿ inch (0.25 cm) thick.
Heat skillet or frying pan over medium heat. Lightly brush both sides of 1 rolled out piece of dough with oil before placing in pan. Cook until golden brown and puffy with a few charred spots, about 2 minutes, then flip and cook other side until golden brown, about 1 more minute. Transfer to a plate and cover with a clean kitchen towel. Repeat with remaining dough. Best made and eaten the same day, but cooled flatbreads can be wrapped in plastic and stored in freezer for up to 2 weeks, then thawed and warmed in 350 F (180 C) oven for 5 to 8 minutes to serve.
Drink Pairings