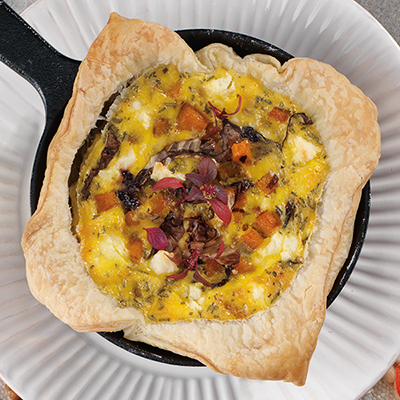 Ingredients
Serves 4
1 tbsp (15 ml) grapeseed oil
2 cups (500 ml) diced butternut squash, cut into ½-in (1.25 cm) cubes
2 medium shallots, chopped
½ tsp (2.5 ml) each salt and pepper, plus extra to taste
1 small head radicchio, sliced into thick ribbons
1 cup (250 ml) whipping cream
1 tbsp (15 ml) chopped fresh rosemary leaves
1 lb (500 g) frozen puff pastry sheets, thawed overnight in refrigerator
4 oz (125 g) feta cheese, crumbled
Instructions
Preheat oven to 350 F (180 C).
In a large frying pan over medium heat, heat oil. Add squash, shallots and a good pinch each of salt and pepper. Cook, stirring occasionally, until squash is tender and shallots start to caramelize, about 10 minutes. Stir in radicchio until it begins to wilt, about 2 minutes. Remove from heat and set aside.
In a medium bowl, beat together eggs, cream, rosemary and about ½ tsp (2.5 ml) each salt and pepper.
Unfold puff pastry and place on a clean, lightly floured surface. Smooth out any creases in pastry with finger and roll out until ¼-in (0.5 cm) thick. Cut into 4 equal squares and carefully line 4 large ramekins or 4 small cast iron skillets with pastry. Some dough will hang over edges. Divide squash mixture and egg mixture between pastry shells. Place quiches on a rimmed baking tray, sprinkle each with feta and bake until golden and puffy, about 30 minutes. Serve immediately.
Drink Pairings