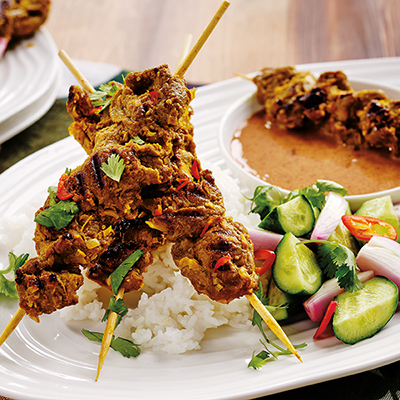 Indonesian Beef Satay served with Cucumber and Pickled Shallot Salad
Ingredients
Serves 4
½ medium onion, roughly chopped
4 garlic cloves, roughly chopped
4 stalks lemongrass, tough outer layers removed, finely sliced
2 tsp (10 ml) ground turmeric
¼ cup (60 ml) coconut milk
2 tbsp (30 ml) vegetable oil
2 lbs (1 kg) beef sirloin or flank steak, cut into thin strips against the grain
24 wooden skewers, soaked at least 2 hours
cooked jasmine or sticky rice, to serve
CUCUMBER AND PICKLED SHALLOT SALAD:
1 Thai red chili, thinly sliced, or to taste
1 tbsp (15 ml) rice vinegar
6 mini cucumbers or 1 English cucumber, cut into chunks
1 handful cilantro leaves, roughly chopped
¼ cup (60 ml) crunchy roasted almond butter
2 tbsp (30 ml) fish sauce
1 tsp (5 ml) tamarind paste (optional)
1 tbsp (15 ml) sambal paste or your favourite chili sauce, or to taste
Instructions
In a blender or with a mortar and pestle, purée onion, garlic, lemongrass, turmeric, salt, coconut milk and oil. Add mixture to a large bowl, add beef and combine then allow to marinate in refrigerator for at least 2 hours but preferably overnight.
Preheat grill to medium-high. Skewer beef and grill over medium-high heat for about 8 to 10 minutes, or until cooked through, golden brown and slightly charred on all sides, turning occasionally.
Serve skewers with jasmine or sticky rice, Cucumber and Pickled Shallot Salad and Almond Sauce for dipping.
For the cucumber and pickled shallot salad, in a medium bowl, mix together shallots, chili, sugar, salt and rice vinegar. Allow to sit for 20 minutes, then add cucumber and cilantro just before serving.
For the almond sauce, in a medium bowl, mix all ingredients together, adding more water if necessary to achieve desired consistency. Taste and adjust seasoning.
Drink Pairings