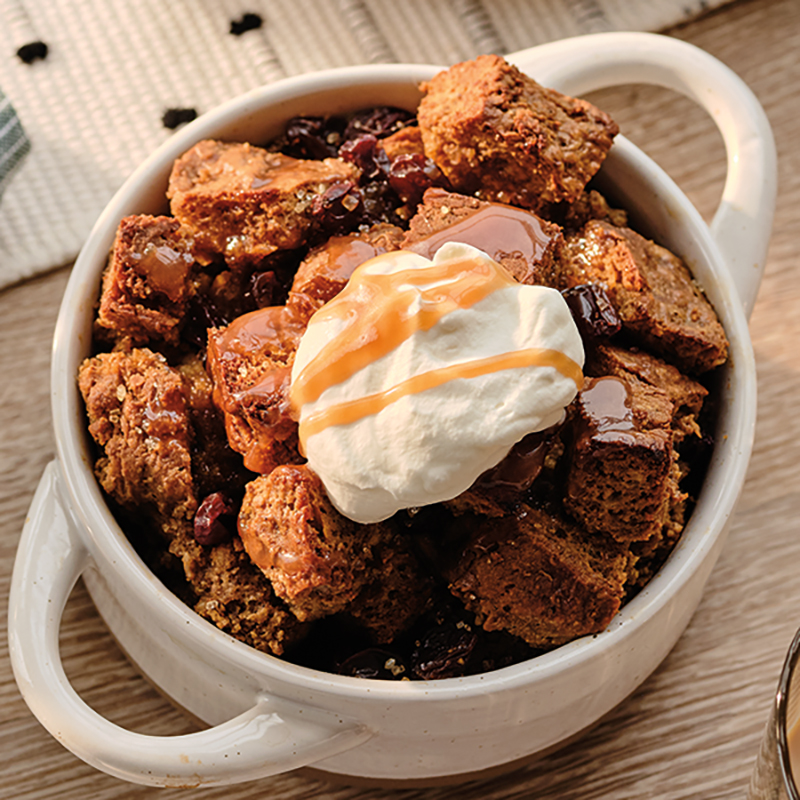 Irish Coffee Soda Bread Pudding & Whiskey Caramel Sauce
Celebrate St. Patrick's Day with an Irish-inspired brunch!
Ingredients
Serves 6
INGREDIENTS FOR SODA BREAD
1½ cups (375 ml) all-purpose flour
2 cups (500 ml) whole wheat flour
1 tbsp (15 ml) baking soda
1 tsp (5 ml) baking powder
½ tsp (2.5 ml) kosher salt
½ tsp (2.5 ml) cream of tartar
3 tbsp (45 ml) unsalted butter, cold and cut into cubes
1½ cups (375 ml) buttermilk, plus extra
INGREDIENTS FOR WHISKEY CARAMEL SAUCE
1½ cups (375 ml) granulated sugar
1 tbsp (15 ml) liquid honey
¼ cup (60 ml) unsalted butter, cut into small pieces
2 oz (60 g) cream cheese, cut into small pieces
¼ cup (60 ml) Irish whiskey
¼ cup (60 ml) whipping cream
INGREDIENTS FOR BREAD PUDDING
¼ cup (60 ml) Irish whiskey
unsalted butter, for greasing
1 tbsp (15 ml) espresso powder
1 tbsp (15 ml) boiling water
¾ cup (175 ml) light brown sugar
2 cups (500 ml) whole milk
½ cup (125 ml) brewed coffee, chilled
1 tsp (5 ml) vanilla extract
½ tsp (2.5 ml) kosher salt
2 tbsp (30 ml) demerara sugar
whipped cream, to serve (optional)
Instructions
To make Soda Bread, position rack in centre of oven, then preheat to 350 F (180 C). Line a baking tray with parchment paper and set aside.
In a large bowl, whisk together both flours, baking soda, baking powder, salt and cream of tartar. Add butter and, using your hands, rub in butter between fingertips until mixture resembles breadcrumbs. Set aside.
In a measuring jug or medium bowl, whisk together buttermilk and egg until thoroughly combined.
Make a well in centre of flour mixture and add buttermilk mixture. Using a fork, incorporate liquid into flour mixture until just combined and a shaggy, sticky dough forms. Fine if a few dry patches remain. DO NOT overmix dough, as resulting loaf could become tough and dense. Turn out dough onto a floured surface and, using hands or a bench scraper, quickly and gently form dough into an 8-in (20 cm) round. Place on prepared baking tray and using a serrated knife, cut a large cross across top, cutting two thirds of the way into the dough. Brush loaf lightly with a little extra buttermilk. Transfer loaf to oven and bake until a wooden skewer inserted into centre comes out clean, about 45 to 60 minutes. Transfer to a wire rack to cool completely to room temperature. Soda Bread may be made up to 3 days in advance.
While Soda Bread cools, make Whiskey Caramel Sauce. In a medium saucepan, add sugar, water and honey, then cook over medium-high heat, stirring occasionally, until sugar has completely dissolved. Stop stirring and allow mixture to simmer until golden, about 15 to 20 minutes. Remove saucepan from heat and stir in butter, cream cheese and salt, whisking constantly until thoroughly combined. Add whiskey and cream and continue to whisk, taking care as mixture may bubble up. If not all cream cheese incorporates into sauce, blend briefly with an immersion blender or in a blender until well combined. Transfer to a heatproof container and set aside to cool to room temperature. Whiskey Caramel Sauce may be made in advance and kept covered and refrigerated for up to 1 week. When ready to serve, warm gently in a small saucepan over low heat, stirring often.
To make Bread Pudding, place raisins in a small bowl and pour whiskey over top. Set aside for 30 minutes, stirring once or twice. Drain raisins in a fine mesh sieve, discarding remaining liquid, and set aside.
While raisins plump, preheat oven to 350 F (180 C). Grease six 12 oz (355 ml) mini casserole dishes with butter and set aside.
In a small bowl, whisk together espresso powder and boiling water until powder has dissolved.
In a large bowl, whisk eggs and brown sugar until well combined. Add milk, coffee, vanilla and salt and whisk again. Whisk in espresso mixture until well incorporated. Cut loaf of soda bread into 1-in (2.5 cm) cubes, then add to coffee mixture and toss well. Divide among prepared baking dishes, pouring any remaining custard mixture over plated puddings. Let puddings soak for at least 30 minutes.
While puddings sit, preheat oven to 350 F (180 C).
Place bread puddings on a baking tray, cover baking dishes with tin foil and bake for 20 minutes. Uncover, sprinkle with demerara sugar and continue to bake until an instant read thermometer inserted in centre registers 165 F (74 C), about another 10 minutes. Let bread puddings cool for 10 minutes.
Serve warm bread puddings with Whiskey Caramel Sauce and whipped cream, if desired.
Drink Pairings