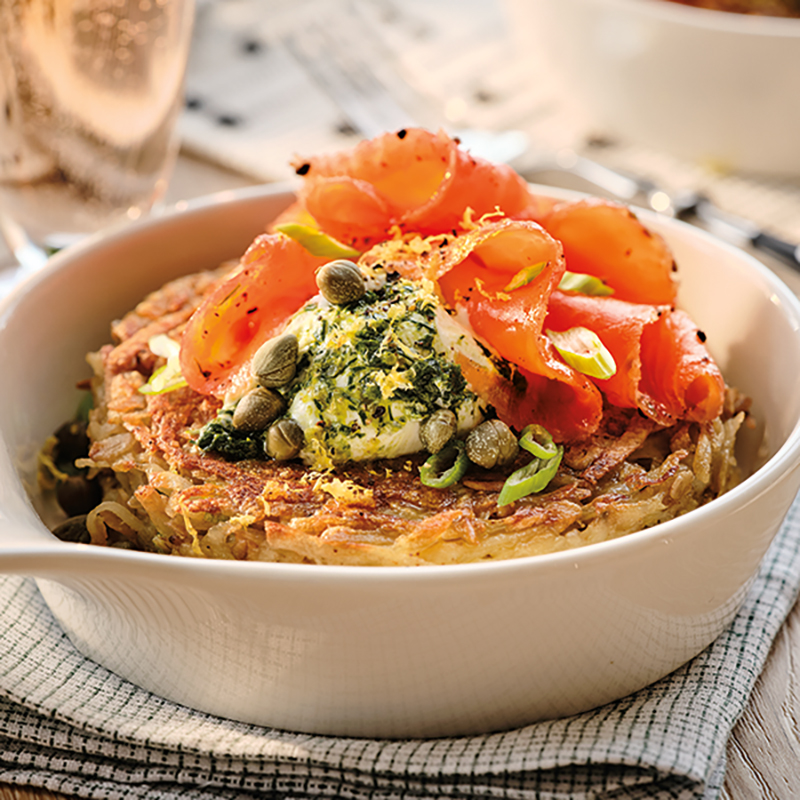 Irish Oat & Potato Cakes with Whiskey-Cured Salmon & Herbed Crème Fraîche
Irish spirited dishes to celebrate St. Patrick's Day
Ingredients
Serves 6
INGREDIENTS FOR WHISKEY-CURED SALMON:
1½ lbs (750 g) skin-on salmon fillet, rinsed under cold water, patted dry, pin bones removed
1 cup (250 ml) kosher salt
½ cup (125 ml) dark brown sugar
2 tbsp (30 ml) black peppercorns
2 tbsp (30 ml) juniper berries
½ cup (125 ml) Irish whiskey
INGREDIENTS FOR HERBED CREME FRAICHE:
½ cup (125 ml) packed fresh dill
1 cup (250 ml) packed fresh parsley leaves and tender stems
1 tbsp (15 ml) capers, rinsed
¼ cup (60 ml) extra-virgin olive oil
½ jalapeño pepper, seeded and chopped
1 tbsp (15 ml) fresh lemon juice
¾ cup (175 ml) crème fraîche or sour cream
INGREDIENTS FOR OAT & POTATO CAKES:
3 medium baking potatoes, peeled
2 green onions, trimmed and finely sliced
¾ cup (175 ml) rolled oats
3 large eggs, lightly beaten
½ tsp (2 ml) freshly ground black pepper
6 tbsp (90 ml) each unsalted butter and grapeseed oil, for cooking
Instructions
To make Whiskey-Cured Salmon, line a baking dish large enough to hold salmon with plastic wrap and set aside.
In a small bowl, whisk together salt, sugar, peppercorns and juniper berries.
Sprinkle half the salt mixture over bottom of prepared baking dish and spread half the dill and thyme on top. Lay salmon, skin-side down, on herbs and drizzle with whiskey. Cover with remaining dill and thyme and top with remaining salt mixture.
Tightly wrap salmon with plastic wrap and weigh down with several tin cans. Refrigerate salmon for 24 hours. Turn salmon over, continue to weigh down with cans and refrigerate a further 24 hours.
When ready to serve, remove salmon from plastic wrap and using back of a knife or a spoon, scrape curing mixture off fish. Place salmon, skin-side down, on cutting board. Thinly slice salmon into diagonal strips, leaving skin behind. Cured salmon may be made ahead and refrigerated, uncut, for 5 days.
To make Herbed Crème Fraîche, place dill, parsley, capers, olive oil, jalapeño (seeded if you don't want sauce to be spicy) and lemon juice into a food processor. Blend, scraping down sides of bowl as needed, until you are left with a slightly chunky sauce. Add crème fraîche to a medium bowl and ripple half green mixture throughout. Spoon remaining sauce into a bowl.
To make Oat & Potato Cakes, shred potatoes using large holes of a box grater. Then place potatoes on a large tea towel and squeeze out as much liquid as possible.
Place drained potatoes in a large bowl along with green onions, oats, eggs, salt, pepper and lemon zest. Stir with a wooden spoon until well combined and set aside for 10 minutes.
In a 5-in (12 cm) frying pan, heat 1 tbsp (15 ml) of both oil and butter over medium heat. Add potato mixture and spread evenly. Cook until bottom is nicely browned, about 8 to 10 minutes. Invert potato cake onto a plate and then slide it back into pan. Continue to cook until again nicely browned on bottom, about another 8 to 10 minutes*. Repeat this step 6 times for 6 cakes, keeping cakes warm in a 200 F (95 C) oven. *You can also make one large oat and potato cake, following the directions, in a non-stick, 12-in (30 cm) frying pan. When ready to serve, slice into wedges and serve as described.
To serve, divide Oat & Potato Cakes among warm serving plates. Top with a good dollop of Herbed Crème Fraîche and thin slices of Whiskey-Cured Salmon. If desired, garnish with additional green onions, lemon zest, capers and thinly sliced red onion.
Drink Pairings