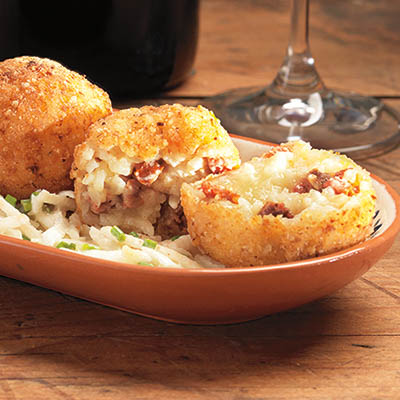 Ingredients
Serves 12 or makes about 2 dozen balls
4 cups (1 L) chicken stock
1 small yellow onion, finely chopped
1½ cups (375 ml) Arborio rice
½ cup (125 ml) grated Parmesan
⅓ cup (75 ml) finely minced smoked chorizo sausage
2 cups (500 ml) dried bread crumbs
1 cup (250 ml) all-purpose flour
¼ lb (125 g) mozzarella, cut into ¾-in (1.5 cm) pieces
LEMON CELERIAC RÉMOULADE:
1 cup (250 ml) mayonnaise
⅓ cup (75 ml) Dijon mustard
2 small or 1 large celeriac, about 2 lbs (1 kg)
1 small handful finely chopped fresh chives
salt and freshly ground black pepper, to taste
Instructions
Heat stock in a large saucepan over high heat and bring just to a boil. Cover and reduce heat to low and keep at simmer.
Heatalargesaucepanovermedium heat. Add oil and butter and when hot, add onion and garlic. Sauté until onion is soft and translucent.
Addriceandstiruntilwellcoated. Add a ladleful of hot stock to rice mixture and stir constantly with a wooden spoon until liquid has been absorbed. Continue adding stock, 1 ladleful at a time, allowing liquid to be absorbed before adding more. Continue for 20 minutes or until rice is tender yet firm to the bite and creamy. Stir in Parmesan and minced chorizo. Set aside for 2 to 3 hours to cool. Once cooled, beat in 2 eggs and mix in until well combined.
Place bread crumbs on a large plate. Place flour in a bowl. In a separate bowl, whisk remaining 2 eggs. Using damp hands shape 2 tbsp (30 ml) of risotto mixture into a ball. Press your thumb into centre to make indent. Place a cube of mozzarella in indent then wrap risotto mixture around cheese to enclose. Repeat with remaining risotto and cheese to make about 24 balls.
Roll risotto balls in flour and shake off any excess. Dip in egg, then in bread crumbs, pressing to coat. Place on a baking sheet and refrigerate for 30 minutes to chill.
Add enough canola oil to a heavy, large saucepan, to reach a depth of 2-in (5 cm). Heat over medium-high heat to 375 F (190 C). Carefully add 5 to 7 balls to hot oil. Avoid crowding or oil temperature will drop and make risotto balls soggy. Turn balls occasionally in hot oil and fry for 4 to 5 minutes or until golden. Use a slotted spoon to transfer to a paper towel-lined baking sheet. Repeat with remaining balls. Serve warm with Lemon Celeriac Rémoulade, optional.
To make LEMON CELERIAC RÉMOULADE: In a large bowl whisk together mayonnaise, mustard, zest and lemon juice. Peel and quarter celeriac. Then working quickly to prevent celeriac from discolouring, coarsely grate and stir into mayonnaise sauce. Season with salt and pepper. Cover tightly and refrigerate until ready to serve.
Drink Pairings