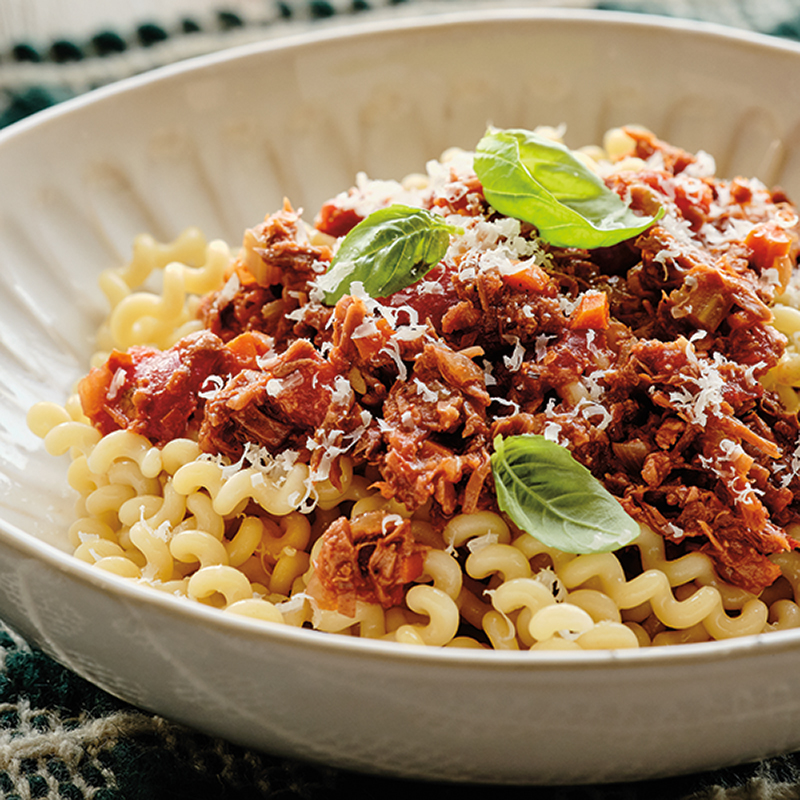 JACKFRUIT BOLOGNESE
A plant-based comfort food to get you through the winter.
Ingredients
Serves 4
2 x 400 ml cans young jackfruit in brine, drained and rinsed*
1 tbsp (15 ml) grapeseed oil
1 large white onion, minced
2 tbsp (30 ml) tomato paste
2 tbsp (30 ml) low sodium soy sauce or tamari
1 tbsp (15 ml) white wine vinegar
1 tsp (5 ml) dried oregano
½ tsp (2.5 ml) smoked paprika
½ tsp (2.5 ml) red pepper chili flakes
½ tsp (2.5 ml) kosher salt
¼ tsp (1 ml) freshly ground black pepper
1 x 28 oz can (796 ml) no salt added, diced tomatoes
1 cup (250 ml) vegetable stock
1 lb (500 g) Fusilli Lunghi Con Buco pasta (or vegan pasta of your choosing)
chopped fresh basil leaves, for garnish
vegan Parmesan, for garnish (can sub regular Parmesan, if not vegan)
Instructions
Start by preparing jackfruit. In a large saucepan, place jackfruit and cover with water. Bring to a boil over high heat, then reduce heat to a simmer and cook, stirring occasionally, for 45 minutes. Drain using a fine mesh sieve, then rinse jackfruit with cool water. When cool enough to handle, shred jackfruit by pulling apart pieces and separating into strands. Return jackfruit to saucepan, cover with water, bring to a boil over high heat and continue to boil for another 30 minutes, adding more water as needed. Drain once more and rinse again with cool water. When cool enough to handle, squeeze as much water out of jackfruit as possible. Place in a bowl and set aside while making sauce base.
Fill a stock pot with water and bring to a boil.
In a large sauté pan over medium heat, warm oil. Add onion, carrot and celery and cook, stirring often, until onions are translucent, about 8 minutes. Stir in garlic and cook, continuing to stir often, until carrots have softened, about another 4 minutes.
Add pasta to boiling water and cook according to package directions.
To softened vegetables in sauté pan, add tomato paste, soy sauce, white wine vinegar, dried oregano, smoked paprika, bay leaf, chili flakes, salt and pepper. Let cook, stirring often, for 2 minutes. Add chopped tomatoes along with their liquid and vegetable stock. Stir, then cook over medium heat, stirring often, for 4 minutes. Stir in reserved jackfruit and continue to cook sauce, stirring often, until most liquid has been absorbed into a thick tomato sauce, about another 10 minutes. Discard bay leaf.
To serve, either add pasta to sauté pan and toss to coat before dividing onto pasta bowls or divide pasta into warmed pasta bowls and top with jackfruit bolognaise. Enjoy with a sprinkle of basil and Parmesan, if desired.
*To save time when preparing jackfruit, look for prepared and shredded jackfruit in refrigerator section of grocery store. Start recipe at step 2.
Drink Pairings