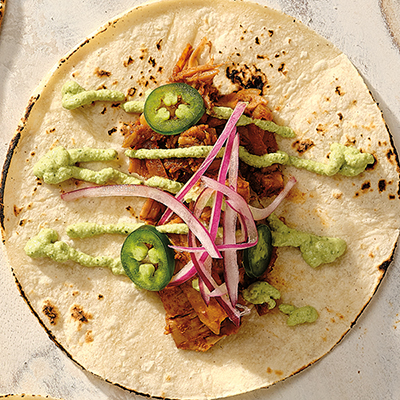 Jackfruit Tacos served with Cashew Crema
Ingredients
Serves 8 to 10
1 x 20 oz (600 ml) can jackfruit
1 tbsp (15 ml) sunflower oil
1 tsp (5 ml) ground cumin
1 tsp (5 ml) chili powder
½ tsp (2.5 ml) ground coriander
½ tsp (2.5 ml) dried oregano
1 tbsp (15 ml) brown sugar
1 tbsp (15 ml) chipotle purée
8 to 10 small corn tortillas, 4.5-in (11.25 cm) each
thinly sliced pickled red onion, radish, and/or jalapeño, as desired, for garnish
chopped cilantro, for garnish
1 cup (250 ml) raw cashews, soaked overnight and drained
½ jalapeño, seeded and chopped
½ cup (125 ml) cilantro leaves and stems
¼ cup (60 ml) water, plus extra as needed
salt and pepper, to taste
Instructions
Drain jackfruit and rinse thoroughly in warm water. Gently break apart with fingers or slice along the grain into ⅛-in (0.25 cm) strips.
Heat oil in a medium cast iron pan over medium-high heat. Add onion and sauté until soft, then add garlic. Cook for 1 to 2 minutes then add spices, sugar, chipotle and jackfruit, sautéing for a few minutes more. Add ½ cup (125 ml) water, then simmer for 10 to 15 minutes, breaking apart with a spatula, until water has mostly evaporated and jackfruit resembles pulled pork. You may need to add more water if jackfruit hasn't broken down. Season with salt and set aside until ready to assemble.
Warm corn tortillas over a grill or hot pan until pliable; otherwise they will crumble when filled. Transfer warmed tortillas to a plate and cover with a clean tea towel after each addition to keep warm.
To assemble, reheat filling, if needed. Add a heaping spoonful to middle of corn tortillas, drizzle with Cashew Crema and garnish as desired.
To make Cashew Crema, In a small blender, combine all ingredients on high until creamy. If needed, add water, 1 tbsp (15 ml) at a time, until desired consistency is achieved. Refrigerate for 1 hour so sauce can thicken, and keep chilled until ready to use. Will keep for up to 1 week in refrigerator.
Drink Pairings