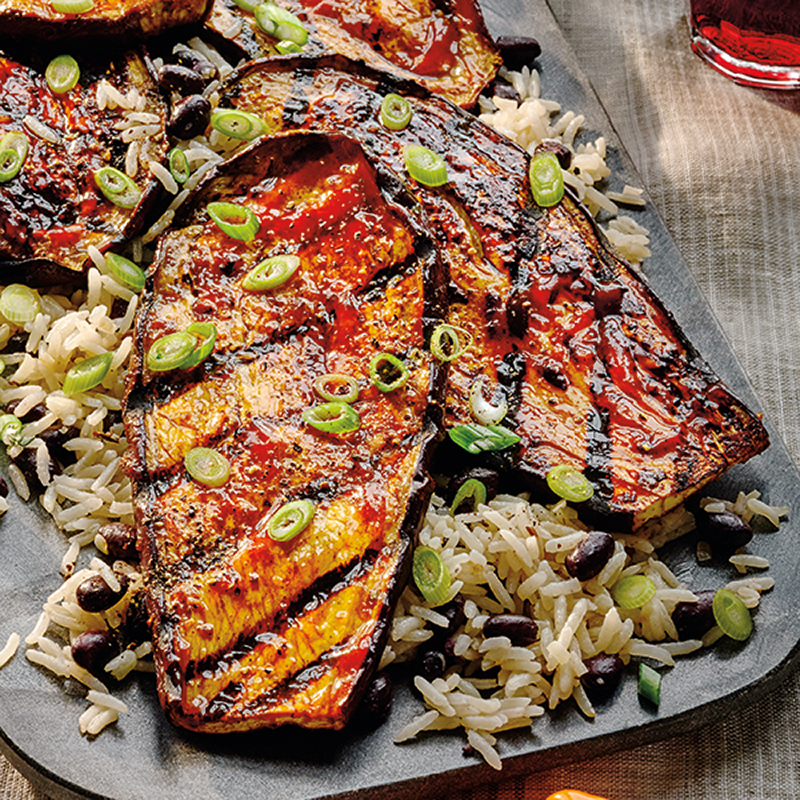 Ingredients
Serves 4
¼ cup (60 ml) apple cider vinegar
¼ cup (60 ml) clover honey
1½ tsp (7 ml) Worcestershire sauce
½ tsp (2.5 ml) smoked paprika
1 tsp + 1 tbsp (20 ml) freshly grated
¼ cup (60 ml) fresh lime juice, divided
5 green onions, trimmed, white and light green part thinly sliced, divided
1 tsp (5 ml) ground cinnamon
1 tsp (5 ml) ground cumin
1 tbsp (15 ml) ground coriander
¼ tsp (1 ml) ground allspice
¼ tsp (1 ml) cayenne pepper
½ tsp (2.5 ml) fine sea salt
½ tsp (2.5 ml) freshly ground black pepper
2 tbsp (30 ml) fresh thyme leaves or 2 tsp (10 ml) dried thyme leaves
¼ cup (60 ml) low sodium soy sauce or tamari
2 tbsp (30 ml) maple syrup
2 tbsp (30 ml) melted coconut oil
1 habanero pepper, seeds removed, minced
extra coconut oil or grape seed oil, to baste
INGREDIENTS FOR COCONUT RICE WITH BEANS
2 tbsp (30 ml) coconut oil
1 cup (250 ml) jasmine rice
1 cup (250 ml) coconut milk
1 x 15 oz (425 g) can black beans, drained and rinsed
Instructions
Start by making barbecue sauce. In a medium saucepan over medium heat, stir together ketchup, vinegar, honey, Worcestershire sauce, smoked paprika and 1 tsp (5 ml) ginger. Bring mixture to a simmer. Reduce heat to low and allow to cook, stirring frequently, until thickened, about 10 minutes. Stir in 1 tbsp (15 ml) lime juice and 2 chopped green onions. Cook another minute, stirring constantly. Remove from heat and transfer to an airtight container. Allow sauce to cool to room temperature before covering, then refrigerate until needed, or up to a week.
To make jerk marinade for eggplant, in a medium bowl, whisk together cinnamon, cumin, coriander, allspice, cayenne, salt, pepper, thyme, garlic, soy sauce, maple syrup, coconut oil, habanero and remaining 1 tbsp (15 ml) ginger and 3 tbsp (45 ml) lime juice and 3 chopped green onions until well combined.
Trim off top of eggplant and slice lengthwise into ½-in (1.25 cm) slices. Lay slices on a large baking tray and generously brush with marinade. Set aside.
Preheat grill to medium-high. Oil grills with some grapeseed oil or coconut oil to prevent eggplant from sticking.
Once grills are hot, add eggplant and grill, turning once halfway through cooking time, until nicely browned and grill marked, about 3 to 5 minutes per side. Repeat, if necessary, with remaining eggplant.
To serve, brush grilled eggplant slices with some of the prepared barbecue sauce before plating over Coconut Rice with Beans (recipe below). Serve while warm.
For Coconut Rice and Beans, in a medium saucepan, heat coconut oil over medium-high heat. Add shallots and sauté until translucent, about 4 minutes. Stir in thyme sprig and bay leaf, cooking until fragrant, about 30 seconds. Add rice and stir until well coated in seasoned oil. Add coconut milk and water. Bring mixture to a boil, cover and reduce heat to low. Cook covered for 10 minutes. Turn off heat, leave saucepan on burner and let sit undisturbed for another 10 minutes. Remove lid, fluff rice, remove and discard bay leaf and thyme. Stir in black beans and serve while warm.
Drink Pairings