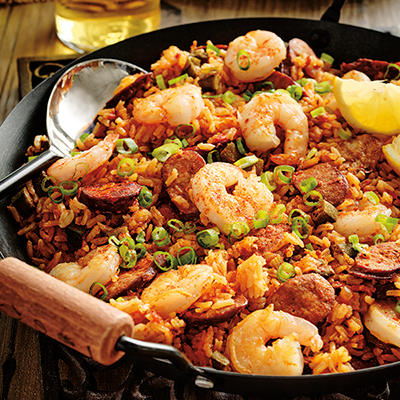 Ingredients
Serves 6-8
2 tbsp (30 ml) vegetable oil
1 lb (454 g) Andouille sausage, cut into ½-in (1.25 cm) slices
1 large yellow onion, diced
1 green bell pepper, cored and diced
1 tbsp (15 ml) tomato paste
2 tsp (10 ml) cayenne pepper
1 tbsp (15 ml) Cajun or Creole seasoning
2 cups (500 ml) long-grain white rice
1 x 28 oz (796 ml) can puréed tomatoes
3 cups (750 ml) chicken stock
salt and pepper, to taste
1 lb (454 g) peeled, deveined sustainable prawns
¼ cup (60 ml) thinly sliced green onion, for garnish
1 lemon, quartered, for garnish
Instructions
Preheat oven to 350 F (180 C).
Heat a large Dutch oven over medium heat. Add oil and sausage and cook until lightly browned, about 2 minutes. Add onion, celery, pepper, garlic, thyme and bay leaf. Continue cooking until onion is soft and translucent, about 5 minutes.
Add tomato paste, cayenne pepper and Cajun seasoning. Cook for another 2 to 3 minutes, until tomato paste has darkened and caramelized.
Add rice, tomatoes and chicken stock. Stir to combine, then taste broth and season to taste with salt and pepper, if needed. Increase heat to high and bring to a boil. Turn off heat, cover with a lid and transfer to oven.
Bake until liquid is absorbed and rice is tender, about 30 to 40 minutes. Place prawns in a single layer on top of rice. Cover and bake again for about 5 minutes.
Remove from oven and let sit, covered, for 5 minutes, or until prawns are opaque and cooked through. Garnish with green onion and lemon wedges and serve.
Drink Pairings