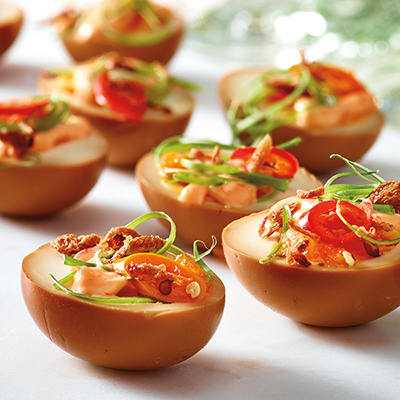 Ingredients
Serves 24
12 medium organic eggs, divided
½ cup (125 ml) Sriracha mayonnaise [Mix ½ cup (125 ml) mayonnaise with 1 to 2 tbsp (15 to 30 ml) Sriracha.]
¼ cup (60 ml) crispy shallots or onions (Available at Asian grocery stores)
6 green onions, green parts only, julienned and placed in ice water
¼ cup (60 ml) jarred pickled chili peppers, thinly sliced, or to taste
Instructions
Bring a medium-sized pot of water to a rolling boil.
Carefully place 6 eggs in water and cook at a gentle boil for 6½ minutes. Remove eggs and immediately place in a bowl of ice water. Let chill until cold, then crack and shell them. Repeat with remaining eggs.
In a small bowl, mix soy sauce, water, sugar and dashi powder. Place eggs in soy mixture overnight, for no longer than 12 hours.
Slice each egg in half. Drizzle eggs with Sriracha mayonnaise and top with shallots, green onion and chilies.
Drink Pairings