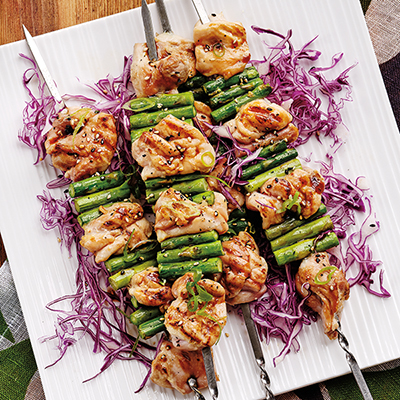 Japanese Chicken Yakitori
Ingredients
Serves 4
12 metal or wood skewers (if using wood, soak for at least 2 hours)
1 lb (500 g) boneless, skinless chicken thighs, cut into 2-in (5 cm) chunks
2 tbsp (30 ml) vegetable oil
1 bunch asparagus, cut into 2-in (5 cm) pieces
½ cup (125 ml) thinly shaved red cabbage
1 tbsp (15 ml) rice vinegar
2 thin slices fresh ginger
2 green onions, cut into 3 pieces each
Instructions
Preheat grill to medium-high.
Toss chicken in oil to coat. Skewer chicken and asparagus, alternating 1 piece chicken with 3 horizontal pieces asparagus.
Grill skewers over medium-high heat, brushing with Tare Sauce while cooking, until chicken is cooked through and reaches an internal temperature of 165 F (74 C). Serve on bed of shaved cabbage with small bowl of Tare Sauce on side for dipping.
For the tare sauce, combine all ingredients in a small pot and bring to a boil over high heat. Turn heat down to low and simmer until consistency of maple syrup. Remove and discard ginger and green onion.
Drink Pairings