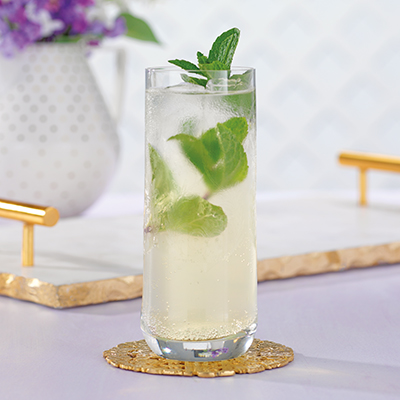 Ingredients
Serves 1
1½ oz (45 ml) Capel Premium Pisco
3 oz (90 ml) cold-steeped jasmine green tea
½ oz (15 ml) simple syrup
1 sprig fresh mint, for garnish
Instructions
In a Collins glass, combine pisco, jasmine green tea, lemon juice and simple syrup. Stir to mix and add ice. Top with soda water and garnish with fresh mint.
To prepare JASMINE GREEN TEA: Combine 2 tbsp (30 ml) of loose-leaf jasmine green tea with 4 cups (1 L) of room temperature water. Cover and let sit for 6 to 8 hours. Strain loose-leaf tea through a coffee filter and transfer to a sealed container to refrigerate until ready to use.
To make SIMPLE SYRUP: 1:1 ratio of sugar dissolved in boiling water, then chilled.
Featuring