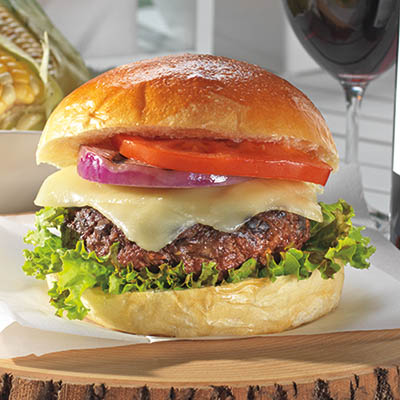 Ingredients
Serves 4
14 g (½ oz) package dried mixed mushrooms
2 shallots, thinly sliced
1¼ lbs (625 g) ground muskox or elk
1 tbsp (15 ml) minced fresh sage leaves
4 large brioche or regular burger buns, toasted
oppings: cooked bacon, aged cheddar, lettuce, sliced avocado, sliced tomatoes and mayonnaise, as desired
Kicked-Up Grilled Corn, to serve (Separate Recipe)
Instructions
Place dried mushroom in a small bowl with hot water and set aside to plump, about 10 minutes. This would be a good time to prep corn, if making. Factor in cooking time.
Add thinly slice shallots to small frying pan with olive oil. Sprinkle with sugar and sauté over medium-low heat, stirring often until golden and soft. Transfer to a large bowl. Using a slotted spoon, lift plumped mushrooms from hot water to a cutting board. Reserve liquid. Blot mushrooms dry and coarsely chop. Add to shallots.
Add ground muskox, minced sage, salt and pepper to shallots and mushrooms. Using hands, work mixture together until blended. Do not overwork meat or it will result in a tough burger. Add a little mushroom water to moisten, as desired. Shape into 4 even-sized patties about 4 or 5-in (10 or 12 cm) wide and ¾ to 1-in (2 to 2.5 cm) thick, about 5 oz (140 g) each. Let rest at room temperature while preheating grill.
Preheat grill to medium and generously grease. Place burgers on grill and barbecue for about 7 or 8 minutes per side or until centre of meat registers 135 to 250 F (57 to 130 C) on a meat thermometer. Don't press on burgers while cooking or they will become tough. Allow burgers to rest 5 minutes before assembling.
Line bottom half of toasted buns with mayonnaise and lettuce, and layer on toppings of choice.
Drink Pairings