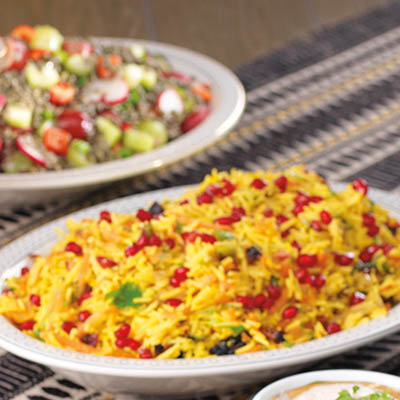 JEWELLED PERSIAN RICE & LENTIL SALAD WITH GRAPES AND RADISHES
Ingredients
Serves 6
½ tsp (2 ml) saffron threads
¼ tsp (1 ml) fennel seeds
1½ tsp (7 ml) cumin seeds
½ tsp (2 ml) ground cinnamon
1 medium onion, finely chopped
2 cups (500 ml) white basmati rice, rinsed well
finely julienned zest of 1 lemon
¼ tsp (1 ml) freshly ground pepper
1 cup (250 ml) grated carrots, about 1 large carrot
¼ cup (60 ml) coarsely chopped, dried, tart cherries
¼ cup (60 ml) coarsely chopped dried apricots
¼ cup (60 ml) coarsely chopped dried figs
½ cup (125 ml) slivered almonds, toasted
½ cup (125 ml) pistachios, toasted
seeds of 1 pomegranate (optional)
¼ cup (60 ml) coarsely chopped mint
¼ cup (60 ml) coarsely chopped cilantro
LENTIL SALAD WITH GRAPES AND RADISHES:
¼ cup (60 ml) lemon juice
2 tbsp (30 ml) sherry or red wine vinegar
⅓ cup (75 ml) extra-virgin olive oil
¼ tsp (1 ml) freshly ground pepper
1 lb (500 g) lentils, preferably Du Puy variety
3 green onions, finely sliced, including white part
1 celery stalk, cut into ½-in (1.25 cm) dice
4 to 6 radishes, thinly sliced
1 cup (250 ml) halved seedless green grapes
1 cup (250 ml) halved seedless red grapes
1 red bell pepper, seeded and cut into ½-in (1.25 cm) dice
1 handful flat leaf parsley, coarsely chopped
Instructions
To make JEWELLED PERSIAN RICE: Mix saffron threads in 2¼ cups (560 ml) of hot water. Set aside.
Melt butter in a large skillet and add fennel and cumin seeds. Sauté for about 1 minute or until fragrant. Add cinnamon, cardamom and onion. Mix to combine and sauté over low heat until onion is soft, about 10 minutes.
Add rice and sauté for 1 minute with the spices and onions. Stir in saffroninfused water and lemon zest. Season with salt and pepper. Cover with a tight-fitting lid and cook over low to medium heat for about 12 minutes. Turn off heat and let stand, covered, for another 10 minutes. Mix in remaining ingredients, cover and let sit a couple minutes before serving.
To make LENTIL SALAD WITH GRAPES AND RADISHES: start with making the VINAIGRETTE: In a small mixing bowl, whisk all ingredients until well blended. Set aside.
To make the SALAD: Bring a large pot of salted water to a boil over high heat. Add lentils and cook until tender, stirring occasionally, about 18 to 20 minutes. Rinse under cold water and drain well. Place lentils and remaining ingredients in a large salad bowl. Pour vinaigrette over salad and toss well to mix.
Drink Pairings