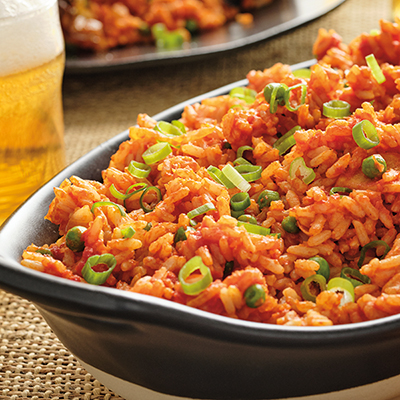 Ingredients
Serves 6
2 yellow onions (1 medium, diced; 1 large, sliced; divided)
2 medium tomatoes, quartered
3 red bell peppers, cored and quartered
2 Scotch bonnet peppers, stemmed (or Scotch bonnet hot sauce), to taste
¼ cup (60 ml) extra-virgin olive oil
1 tbsp (15 ml) finely grated ginger
¼ cup (60 ml) tomato paste
1 tsp (5 ml) curry powder
1 tbsp (15 ml) smoked paprika
2 whole sprigs fresh thyme
2 cups (500 ml) vegetable stock
3 cups (750 ml) long-grain converted or parboiled rice
salt and pepper, to taste
1 cup (250 ml) cooked green peas
¼ cup (60 ml) sliced green onions, for garnish
roasted chicken, to serve (optional)
Instructions
In a blender, blend diced onion, tomatoes, bell peppers and whole Scotch bonnet peppers until smooth. Set aside.
In a Dutch oven, heat oil over medium heat and sweat sliced onion until soft and slightly caramelized, about 5 to 8 minutes. Add garlic, ginger and tomato paste and cook until tomato paste has darkened, about 3 to 5 minutes.
Add curry powder, paprika, thyme and bay leaves and stir to combine. Add blended pepper mixture and simmer over medium heat for about 20 to 25 minutes, stirring frequently. Once liquid has reduced and you can see oil pooling at top, add vegetable stock and rice. Check seasoning and season to taste with salt and pepper, if needed.
Increase heat to high and bring to a boil. Then reduce heat to low and cover with foil then place Dutch oven lid on top. Cook for 15 to 20 minutes, or until liquid has been absorbed and rice is cooked through. Mix in peas and fluff rice before serving. Garnish with green onion. Serve alongside roasted chicken, if desired.
Drink Pairings