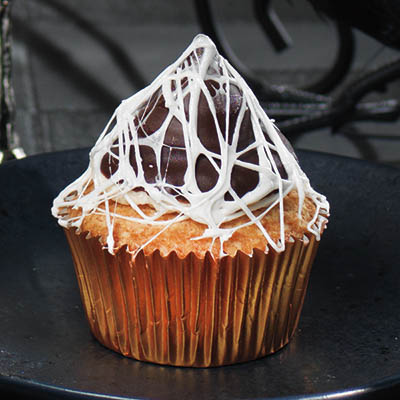 KAHLÚA CUPCAKES WITH MARSHMALLOW SPIDER WEBS
Ingredients
Serves 24 cupcakes
2½ cups (625 ml) all-purpose flour
2½ tsp (12 ml) baking powder
½ cup (125 ml) unsalted butter, at room temperature
1¾ cups (425 ml) granulated sugar
1 tsp (5 ml) vanilla extract
¾ cup (175 ml) whole milk
24 chocolate kiss candies, unwrapped
2 cups (500 ml) chocolate chips
3 cups (750 ml) mini marshmallows
1 cup (250 ml) unsalted butter, at room temperature
½ cup (125 ml) cream cheese, at room temperature
3 tbsp (45 ml) whipping cream
3 cups (750 ml) icing sugar, divided
Instructions
Preheat oven to 350 F (180 C). Line cups of two standard muffin tins with paper liners and set aside.
In a medium bowl, whisk together flour, baking powder and salt.
In bowl of a stand mixer fitted with paddle attachment, beat butter until light and fluffy, about 2 minutes. Add sugar, Kahlúa and vanilla extract and beat until well combined. Add eggs, one at a time, beating well after each addition. In two additions each, alternate adding flour mixture and milk to butter mixture. Combine on low speed until batter is well combined.
Divide batter among paper liners in muffin tins and bake until cupcakes are golden brown and a wooden skewer inserted in centre of cupcakes comes out clean, about 20 to 25 minutes. Remove from muffin tin to a wire rack to cool to room temperature.
When ready to assemble, transfer Spiked Buttercream into a piping bag fitted with a large round tip. Pipe domes of icing onto each cupcake. Place a chocolate kiss on top of each mound of buttercream before refrigerating frosted cupcakes for 30 minutes allowing frosting to set.
Place chocolate chips in a microwave-safe measuring cup. Microwave at 15 second intervals, stirring between each, until melted. One at a time, dunk cupcakes into melted chocolate, covering frosting in a layer of chocolate. Set aside and repeat with remaining cupcakes. When all cupcakes are dipped in chocolate, refrigerate again until chocolate is firm, about 15 to 25 minutes.
Meanwhile, place half the marshmallows in a microwave-safe bowl. Microwave at 15-second intervals until puffed and melted. Stir with a fork to deflate and combine to a smooth paste.
Working with one cupcake at a time, grab a little melted marshmallow between your fingers and spread your fingers apart to make marshmallow stretch and become stringy. Lay stretched marshmallow over and around chocolate covered frosting. Continue until cupcake is covered with desired amount of marshmallow web. Melt remaining marshmallows when first half gets too hard to make spider webs with. Transfer to a serving platter and let sit at room temperature for 20 to 30 minutes, allowing frosting to soften slightly, before serving.
To make SPIKED BUTTERCREAM: In bowl of a stand mixer fitted with paddle attachment, mix together butter and cream cheese until smooth and fluffy, about 1 minute. Add Kahlúa, whipping cream, salt and ½ cup (125 ml) icing sugar. Mix into butter mixture at low speed until well combined. Continue adding icing sugar a ½ cup (125 ml) at a time, incorporating fully before adding next addition. Make sure to scrape down sides of mixing bowl with a rubber spatula as needed. Mix frosting on medium-high speed until stiff but spreadable, about 3 minutes. Use immediately. Makes about 5 cups (1.25 L).
Drink Pairings