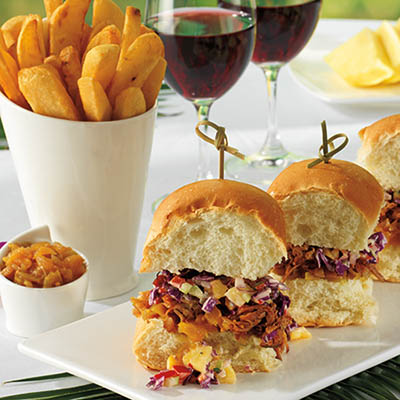 KALUA CHAR SUI PULLED PORK SLIDERS WITH PINEAPPLE CHUTNEY AND TROPICAL SLAW
Ingredients
Serves about 18 pulled pork sliders and 2 cups (500 ml) Pineapple Chutney
1 tbsp (15 ml) canola oil
1 red onion, finely chopped
½ tbsp (7 ml) mustard seeds
½ tbsp (7 ml) black onion seeds (nigella)
1 small pineapple, peeled, cored and cut into ½-in (1.25 cm) dice, OR 2 x 14 oz (398 ml) cans diced pineapple, well drained
1 red Thai chili, seeded and minced
1-in (2.5 cm) piece ginger root, finely chopped
⅓ cup (75 ml) light brown sugar
½ cup (125 ml) cider vinegar
KALUA CHAR SUI PULLED PORK:
¼ cup (60 ml) hoisin sauce
¼ cup (125 ml) pineapple juice
2 tbsp (30 ml) liquid honey
1 tbsp (15 ml) finely minced ginger root
½ tbsp (7 ml) finely minced garlic
1 tbsp (15 ml) Liquid Smoke hickory flavour, optional
1 tbsp (15 ml) sambal oelek or Sriracha Sauce
½ tsp (2 ml) Chinese five spice powder
3 lbs (1½ kg) pork shoulder or butt
2 cups (500 ml) finely chopped red cabbage
½ red bell pepper, finely diced
3 tbsp (45 ml) finely chopped red onion
1 rib celery, finely diced
2 green onions, finely sliced
¼ cup (60 ml) chopped cilantro
½ cup (125 ml) ¼-in (0.5 cm) finely diced mango
½ cup (125 ml) ¼-in (0.5 cm) finely diced pineapple
3 tbsp (45 ml) mayonnaise
1 tbsp (15 ml) cider vinegar
1 tbsp (15 ml) pineapple juice
1 tsp (5 ml) Dijon mustard
2 tbsp (30 ml) granulated sugar
3 tbsp (45 ml) canola oil
Instructions
To make PINEAPPLE CHUTNEY: Heat canola oil in a medium-sized saucepan over medium heat. Add red onion, mustard seeds, onion seeds and turmeric. Cook a couple minutes until fragrant then add pineapple, salt, Thai chili, ginger, brown sugar and cider vinegar.
Bring to a boil, reduce heat and simmer, with lid ajar, for 30 to 45 minutes or until dark golden and thick. Pour into a sterilized jar and allow to cool before covering. Refrigerate.
For PULLED PORK: Mix hoisin sauce, pineapple juice, soy sauce, honey, sesame oil, ginger root, garlic, liquid smoke, sambal oelek and five spice together. Place pork in a slow cooker. Pour half the marinade over top, reserving remaining marinade. Cover and cook on high for 6 to 8 hours or until meat is tender and can be shredded with a fork.
Alternatively, place pork on a large double sheet of foil. Pour half the marinade on top. Fold and wrap well, sealing completely. Bake in a preheated 350 F (180 C) oven for 4 to 5 hours, or until meat is tender and can be pulled apart with a fork.
Remove pork from slow cooker, trim excess fat and shred pork. Mix in remaining marinade sauce and any excess juices from the slow cooker. Keep warm.
To make TROPICAL SLAW: In a large bowl, combine chopped red cabbage, red pepper, red onion, celery, green onion, cilantro, mango and pineapple.
In a small bowl, mix mayonnaise with cider vinegar, pineapple juice and Dijon. Season with salt and pepper, to taste. Add to slaw and toss until well mixed. Chill for 15 minutes.
To serve, split the dinner rolls. Add a dollop of Pineapple Chutney and a portion of the shredded kalua pork. Top with a generous portion of slaw. Add bun top.
To make CASSAVA CHIPS: Trim ends from cassava and then cut it in half. Make a shallow cut in the skin and gradually work the knife under it to remove the skin.
Cut cassava into long, narrow, thin strips, about ½-in (1.25 cm) thick. Rinse and place in a deep saucepan along with sugar and salt. Fill with enough water just to cover cassava.
Preheat oven to 425 F (220 C). Line a baking sheet with foil and set aside. Bring cassava to a boil and cook on medium heat until fork tender. Do not overcook. Drain and allow to cool.
Place cassava in a large bowl and toss with canola oil until well coated. Spread in a single layer onto foil-lined baking sheet. Bake in preheated oven for 20 to 25 minutes or until slightly brown, turning once halfway. For extra crispy chips, these can be deep fried in a deep fryer in canola oil at 400 F (200 C) until golden and crisp.
Drink Pairings