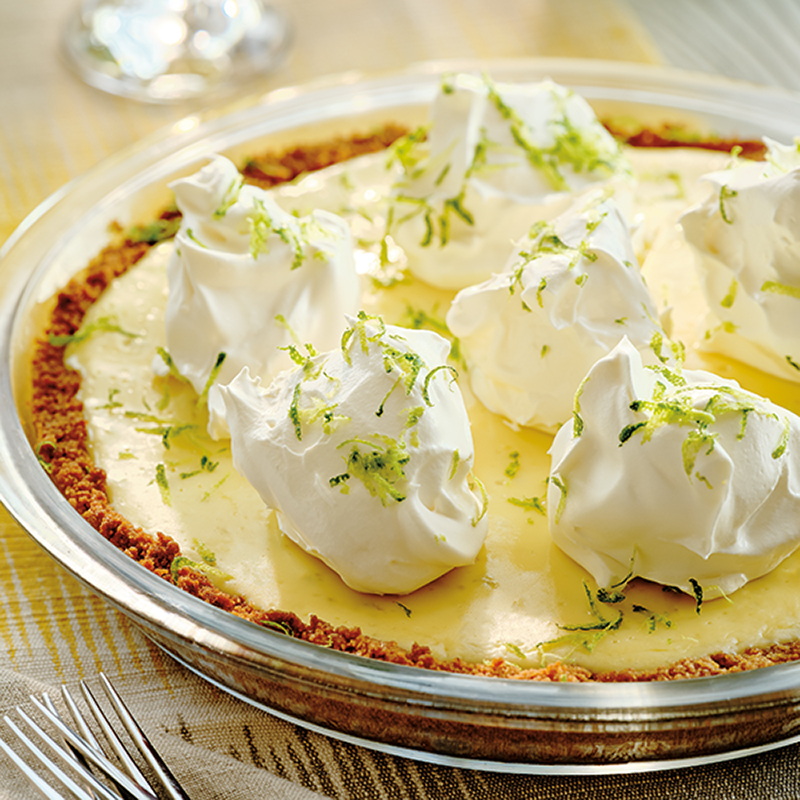 Ingredients
Serves 6 to 8
1½ cups (375 ml) finely crushed graham cracker crumbs
2 tbsp (30 ml) packed light brown sugar
¼ cup + 2 tbsp (90 ml) salted butter, melted
14 oz (414 ml) sweetened condensed milk
¾ cup (175 ml) freshly squeezed key lime (or regular lime) juice
1 cup (250 ml) whipping cream, chilled
½ cup (125 ml) full-fat Greek yogurt
3 tbsp (45 ml) icing sugar
Instructions
To make Crust, preheat oven to 325 F (170 C). In a medium bowl, combine graham cracker crumbs, brown sugar and melted butter. Stir with a fork until mixture is well combined. Press crumbs firmly into bottom and up sides of a 9-in (23 cm) pie pan. Bake until golden brown, about 10 to 15 minutes. Remove from oven and let cool. Leave oven on for next step.
To make Filling, in a bowl, whisk egg yolks and condensed milk until pale and well combined, about 5 minutes. Mix in lime zest, lime juice, rum, vanilla and salt. Pour mixture into cooled crust and bake until filling is just set and starting to puff around edges, 15 to 20 minutes. Remove from oven and let cool completely.
To make Topping, in bowl of an electric mixer, combine cream, yogurt, icing sugar, vanilla and rum and beat until soft peaks form, about 3 to 4 minutes. Dollop pie with topping and garnish with lime zest.
Drink Pairings