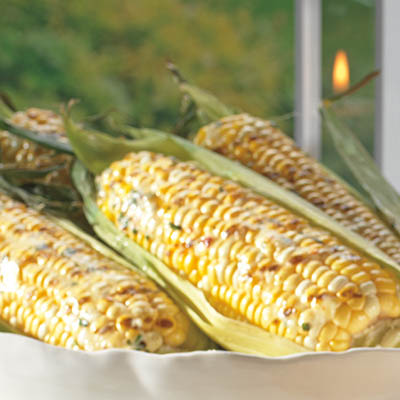 Ingredients
Serves 12
8 ears of corn with husks
½ cup (125 ml) unsalted butter, at room temperature
2 tbsp (30 ml) chopped fresh basil
2 tbsp (30 ml) finely grated Parmesan
½ tsp (2 ml) crushed red chili flakes
Instructions
Pull outer husks from corn back and strip away silk from each ear of corn. Fold husks back into place and put corn in large bowl or sink with cold water and 2 tbsp (30 ml) salt for 10 minutes.
Preheat grill to medium.
Combine Topping ingredients in a medium-sized bowl. Stir to blend and set aside.
Remove corn from water bath and shake off excess. Place corn with husks intact directly on heated grill. Close barbecue and grill corn for 15 to 20 minutes or until kernels are tender when pierced. Turn corn every 5 minutes during grilling.
Remove husks and generously spread cobs with topping while still hot.
Drink Pairings