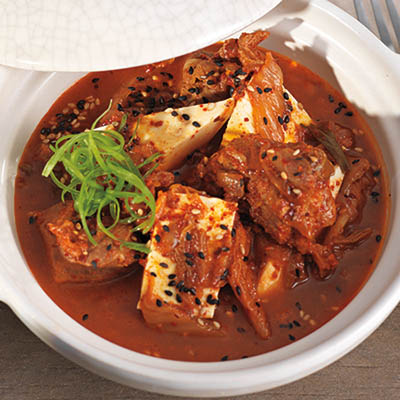 Ingredients
Serves 4 to 6
1 cup (250 ml) chicken stock
1 tbsp (15 ml) gochujang (Korean chili paste)
1 lb (500 g) boneless pork shoulder, trimmed and cut into 1-in (2.5cm) cubes
2 cups (500 ml) kimchi, roughly chopped
1 yellow onion, peeled and sliced
½-in (1.25 cm) slice ginger root, peeled and halved
2 whole green onions, diagonally sliced
12 oz (350 g) pkg medium tofu, cut into 1-in (2.5 cm) slices
Instructions
In a small bowl, combine chicken stock and gochujang, and stir to blend. Set aside.
Place pork cubes in a large Dutch oven or heavy-bottomed saucepan. Sprinkle with salt and pepper. Spread kimchi over top, along with onion, garlic, ginger, and half the green onion. Pour chicken stock over top. Cover tightly with lid and bring to a boil over medium-high heat. Reduce heat and simmer, covered for about 45 minutes or until pork is tender.
Drizzle sesame oil over stew and arrange tofu slices on top. Using a spoon, pour some of the pan juices over tofu. Cover and simmer for another 15 minutes. Serve stew in shallow bowls and garnish with green onions.
Drink Pairings