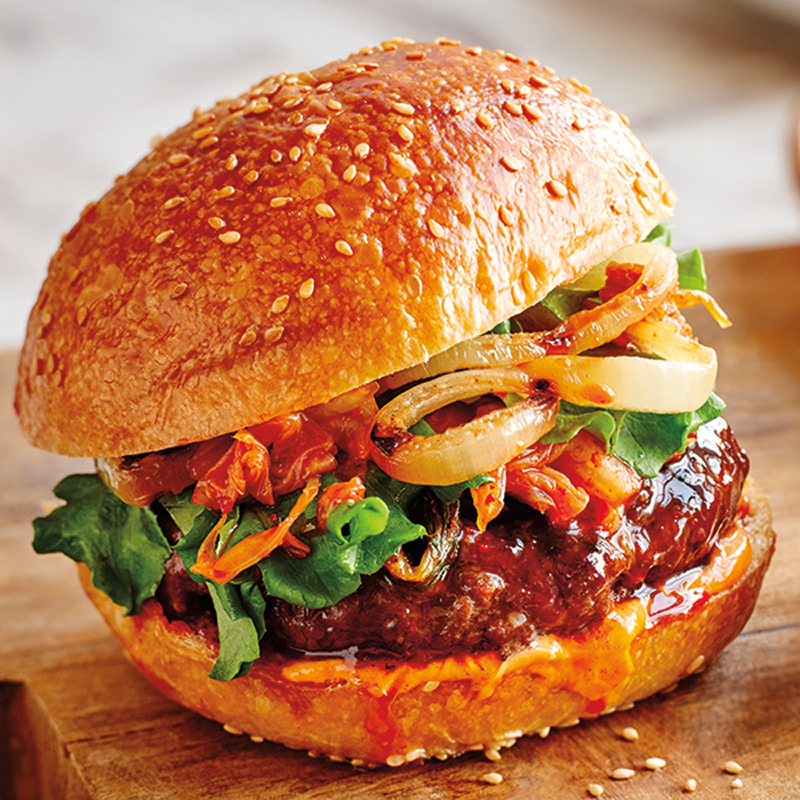 Ingredients
Serves 4
1½ lbs (680 g) medium ground beef
1 cup (250 ml) bulgogi or kalbi sauce
½ cup (125 ml) mayonnaise
¼ cup (60 ml) gochujang sauce
½ tsp (2.5 ml) toasted sesame oil
3 tbsp (45 ml) vegetable oil, divided
1 small white onion, cut into ½-in (1.25 cm) thick slices, to garnish
1 cup (250 ml) kimchi1, roughly chopped
4 sesame seed burger buns, halved
Instructions
Shape ground beef into 4 patties. Season to taste with salt and pepper.
In a small saucepan over medium heat, reduce bulgogi (or kalbi) sauce by half.
In a bowl, mix mayonnaise, gochujang, garlic and sesame oil. Set aside.
Preheat barbecue to medium-high and grease grills with 2 tbsp (30 ml) oil. Brush patties and onion slices with remaining 1 tbsp (15 ml) oil.
Grill patties for 8 to 10 minutes or until cooked to desired doneness, brushing with bulgogi sauce and flipping constantly. While patties cook, grill onions 4 minutes per side. Remove burgers and onions from barbecue once done and let rest for 2 minutes. Meanwhile, grill burger buns cut-side down until golden brown, about 1 to 2 minutes.
To assemble burgers, spread both sides of buns with kimchi mayonnaise. Place a patty on each bottom bun. Top each patty with kimchi, grilled onions, a lettuce leaf and bun top.
Drink Pairings