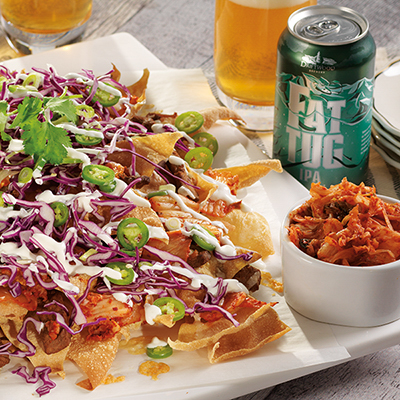 Ingredients
Serves 8
1¼ lbs (625 g) sirloin steak, thinly sliced
1 Bosc pear, peeled, cored and coarsely grated
1 small yellow onion, finely diced
1 tbsp (15 ml) minced ginger
½ cup (125 ml) low-sodium soy sauce
2 tbsp (30 ml) brown sugar
2 tbsp (30 ml) unseasoned rice vinegar
2 tbsp (30 ml) gouchujang hot pepper paste
vegetable oil, for frying
½ lb (250 g) packaged square wonton wrappers, cut in half diagonally
1½ cups (375 ml) kimchi, squeezed of excess liquid
2 cups (500 ml) freshly grated cheddar
1 cup (250 ml) sour cream
¼ tsp (1 ml) finely grated lime zest
3 tbsp (45 ml) lime juice
1 cup (250 ml) shredded red cabbage
2 green onions, trimmed and thinly sliced
1 or 2 serrano peppers, thinly sliced
fresh cilantro, for garnish
Instructions
In a large sealable plastic bag, add first 10 ingredients. Seal and shake well to combine. Refrigerate at least 1 hour or up to overnight.
When ready to assemble, preheat oven to 375 F (190 C).
In a deep pot over medium heat, warm about 2-in (5 cm) of oil. Make sure it registers 350 F (180 C) on a deep fat-frying thermometer. Working with a few pieces of wonton at a time, fry until crispy and golden brown, about 30 seconds to 1 minute. With a slotted spoon, transfer to a paper towel-lined baking tray to drain and, while warm, sprinkle with a little salt to season chips. Continue frying until all wontons are cooked.
In a large cast iron skillet over medium-high heat, heat a drizzle of oil. Drain marinated beef and cook, stirring occasionally, until well browned, about 4 minutes. Cook beef in batches, if necessary, to prevent crowding as beef will not caramelize properly. Transfer to a cutting board and roughly chop. Place beef on a plate and set aside.
In wiped out skillet or a small baking tray, assemble nachos in layers in the following order; wonton chips, beef, kimchi and cheese. Repeat layering until all ingredients are used up. Bake until cheese has melted and nachos are warmed through, about 5 minutes.
In a small bowl, whisk together sour cream, lime zest and lime juice. Garnish baked nachos with red cabbage, drizzle of lime cream, green onions, serrano peppers and torn cilantro leaves. Serve immediately with any extra lime cream and kimchi on side.
Drink Pairings