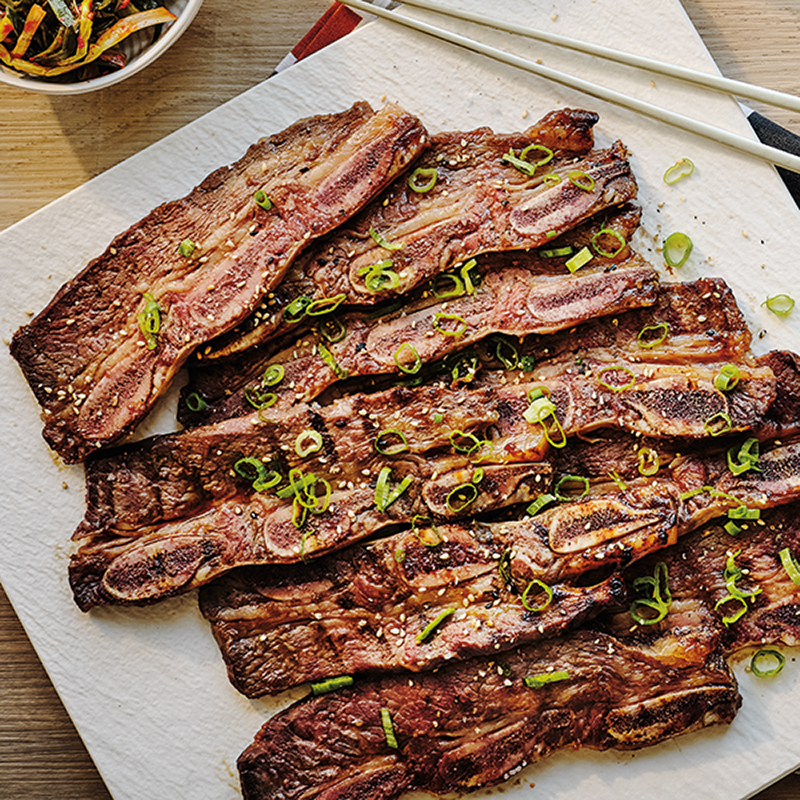 Korean Short Ribs (Galbi)
Korean Barbecue is a communal meal. All the items are laid out on the table with a portable grill in the middle. The meal consists of lots of small side dishes. Eat the meats as described in the recipes as little lettuce packages, on their own, or with rice and kimchi—it's up to you!
Ingredients
Serves 4-6
2 ripe pears, peeled and cored
1-in (2.5 cm) piece ginger, peeled
2 tbsp (30 ml) Korean cooking rice wine, or mirin
1 tbsp (15 ml) toasted sesame oil
2 lbs (1 kg) flanken-cut beef short ribs (Maui rib cut)
sesame seeds, for garnish
½ head green lettuce, washed, to serve
1 bunch perilla leaves, to serve (optional)
4 garlic cloves, thinly sliced, to serve
2 Korean chili peppers or serrano peppers, thinly sliced, to serve
white short grain rice, cooked, to serve
Fermented Bean Sauce, make ahead (recipe in Fall issue) to serve
Instructions
Blend pears, onion, 5 whole garlic cloves, ginger and water until smooth. Add soy sauce, honey, cooking wine and sesame oil and blend to combine. Transfer to a container large enough to marinate ribs in.
Add ribs to marinade and marinate covered in refrigerator for at least 1 hour, preferably overnight.
Grill ribs on Korean grill over medium-high until fully cooked, about 2 to 3 minutes per side. Cut and garnish with sesame seeds to serve.
To eat, if desired, rip a piece of lettuce into a bite-sized piece, fill with a perilla leaf, a piece of short rib, sliced garlic, chili, rice and some Fermented Bean Sauce.
Drink Pairings