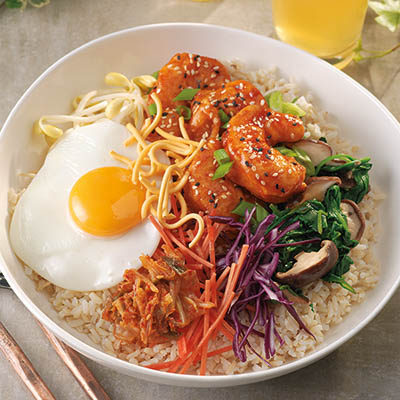 KOREAN SHRIMP BARBECUE BOWL
Ingredients
Serves 4
vegetable oil, for frying
1 tsp (5 ml) minced garlic
1 tbsp (15 ml) grated ginger
3 tbsp (45 ml) gochujang (Korean chili paste)
1½ tbsp (22 ml) unseasoned rice wine vinegar
2 tbsp (30 ml) toasted sesame oil, divided
1 tbsp (15 ml) clover honey
⅔ cups (150 ml) all-purpose flour
1 tbsp (15 ml) cornstarch
¾ cup (175 ml) cold water, plus extra
1½ lbs (750 g) large shrimp, peeled and deveined
1 lb (500 g) shiitake mushrooms, trimmed and thickly sliced
10 oz (310 g) fresh spinach
salt and pepper, to taste
4 cups (1 L) cooked brown jasmine rice
1½ cups (375 ml) fried chow mein noodles
1 large carrot, cut into matchsticks
¾ cup (175 ml) shredded purple cabbage
2 green onions, trimmed and thinly sliced
1 cup (250 ml) mung bean sprouts
1 cup (250 ml) prepared kimchi
4 sunny side up fried eggs (optional)
toasted sesame seeds, for garnish
Instructions
Heat several inches of oil in a heavy-bottomed, large saucepan to 350 F (180 C) on a deep fat-frying thermometer.
In a large bowl, mix together garlic, ginger, tamari, gochujang, rice vinegar, 1 tbsp (15 ml) sesame oil and honey. Set aside.
In a medium bowl, whisk flour, cornstarch and water until combined, a few lumps of flour can remain in batter. Add shrimp and toss to coat. Working in batches, fry shrimp in hot oil until golden and cooked through, about 4 to 6 minutes. Drain on baking tray covered with paper towels. Once all shrimp are cooked, add to bowl with sauce and toss well.
Warm remaining sesame oil in a large skillet or frying pan over medium heat. Add mushrooms, spinach and a pinch of salt and pepper. Cook until spinach is wilted and mushrooms start to brown, about 8 minutes. Remove from heat and season to taste with additional salt and pepper, if needed.
To serve, divide warm cooked rice among serving bowls. Top with saucy fried shrimp and cooked spinach and mushrooms. Add chow mein noodles, carrots, cabbage, green onions, bean sprouts and kimichi. Top with a fried egg, if using, garnish with toasted sesame seeds. Drizzle bowls with any remaining spicy shrimp sauce, if desired.
Drink Pairings